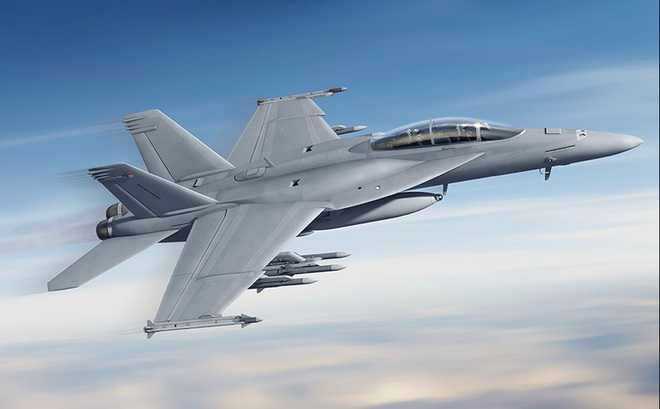 Ajay Banerjee
Tribune News Service
Bengaluru, February 23
After the final operational clearance (FOC) of Light Combat Aircraft Tejas, India is now looking at a rapid multi-pronged effort to build the next class of fighter jets having more powerful engines and potent weaponry.
Dr G Satheesh Reddy, who is Secretary, Defence Research and Development, and also Chairman of DRDO, said, "The FOC for Tejas is a landmark for the country. From here on, we can produce faster (jets)." The design for the Medium Weight Fighter (MWF) is ready. The prototype will be ready by 2021-end," the senior defence scientist added.
The Tejas weighs 6.5 tonnes and the MWF is the next class and targeted to weigh around 17 tonnes. The Aeronautical Development Agency and the Indian Air Force (IAF) have designed it as per the requirement of the IAF. It will have an engine of 98 Kilonewton (Kn) thrust.
Also, India is looking to take a technological leap. The DRDO is now in talks with an international partner to make a jet engine of 110 Kn power. So far, no such engine exists anywhere in the world. "We are open to working on this and are in talks with partners for joint development," said Dr Reddy, adding this engine could be used on future jets.
On being asked about the Kaveri engine, Dr Reddy said it would be used on UAVs. "It is not being shelved." Notably, Kaveri's thrust is about 75 Kn and 90 Kn is desired to power a fighter jet.
The Ministry of Defence has already informed Parliament about the technological difficulties of engine-making, including non-availability of raw material/critical components and skilled manpower.
On the much-debated construction timeline for the variants of Tejas, Dr Reddy, who took over as DRDO Chairman in August last year, said the first 20 of the Initial Operational Clearance (IOC) version will be ending very soon. The production of 20 jets under the FOC version would start this year and would be done in two years. We are waiting for the IAF to place an order for 83 jets of the Mark 1A version.
On the engine of the Arjun tank, so far imported from MTU Germany, Dr Reddy said, "A new engine is being developed and will be tested."