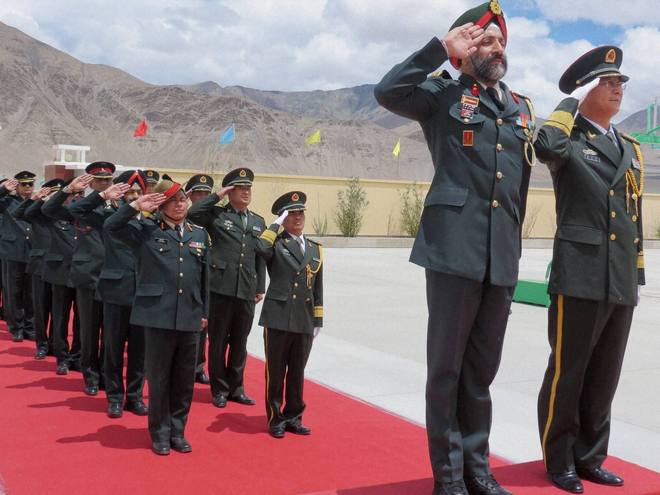 Ajay Banerjee
Tribune News Service
New Delhi, August 1
India and China today took another step to maintain peace along their disputed boundary running along the Himalayan ridge and opened their fifth border meeting point for local military commanders on either side to sort out local issues to prevent needless flare-ups.
Today, the two sides met for the first time at Daulat Beg Oldie in northern Ladakh. Located at an altitude of some 16,000 ft, the place had seen a three-week-long tense stand-off between the armies of either side in April 2013. It is at southern side of the Karokaram pass an ancient trade route between Leh and Xinjiang – China's Muslim-dominated region. The Indian and Chinese delegations were led by Col BS Uppal and Col Song Zhoanli, respectively.
The meeting was scheduled to mark People's Liberation Army (PLA) Day. The occasion was marked by salutations to the Chinese national flag and was followed by ceremonial address by both delegations' leaders. The two sides reflected a mutual desire of maintaining and improving relations at the border. A cultural programme showcasing Chinese culture and tradition was also organised.
After Prime Minister Narendra Modi rolled out his China initiative, this was the second border meeting point to be opened. In mid-May, the first-ever meeting was conducted at Kibithoo (Anjaw district) in the extreme eastern area of Arunachal Pradesh on the banks of the Lohit river. A hotline was set up and the first meeting was conducted around the time Modi was visiting China between May 14 and May 16 this year.
Before these two new border meeting points opened, local commanders met at three points —Spanngur Gap at Chusul in Ladakh, Bum-La near Tawang in Arunachal Pradesh and Nathu-La in Sikkim. Today a meeting was also conducted at Chusul, the Chinese were the hosts at Moldo Garrison. The delegations were led by Brigadier JKS Virk from the Indian side and Senior Colonel Chen Zheng Shan from the Chinese.
In April, the two countries had conducted a two-day annual defence dialogue with a promise of maintaining peace along the 3,488-km-long disputed frontier, a vision outlined by PM Narendra Modi and Chinese President Xi Jinping at their September 2014 summit in India.
The militaries of the two countries are expected to control divergence of opinion at the LAC in a proper way, strengthen strategic mutual trust, deepen pragmatic cooperation and make contributions to safeguarding the regional and world peace and stability, Chang added.
The two armies stand virtually face-to-face across the Himalayan ridgeline and patrolling in disputed areas is common from both sides.
Top News
India has never been defensive about its stand on buying Rus...
Police say Adil Wani killed Sunil Kumar Bhat in an orchard i...