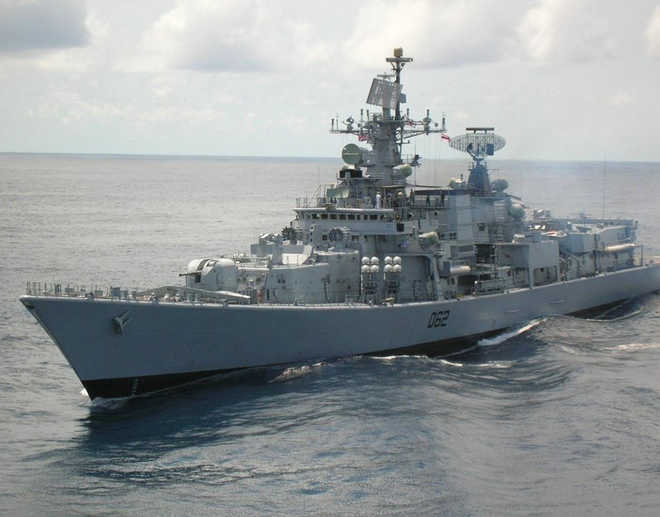 Ajay Banerjee
Tribune News Service
New Delhi, April 9
Even as India and China spar over the visit of Tibetan spiritual leader the Dalai Lama to Tawang in Arunachal Pradesh, the navies of the two countries have coordinated on the high seas to jointly rescue a merchant ship from pirates off the coast of Aden in the Arabian Sea.
(Follow The Tribune on Facebook; and Twitter @thetribunechd)
The Indian Navy and China's People's Liberation Army (Navy) jointly saved a bulk carrier named OS-35 which came under attack by pirates. The 178-metre ship was attacked by pirates on Saturday night in the Arabian Sea. The INS Mumbai provided air cover to the distressed merchant vessel, while the PLA Navy ship Yulin sent in a team of 18 to sanitise the merchant ship.
The Commander of the INS Mumbai has reported back to the Naval headquarters here that the merchant vessel is safe, Indian Navy spokesperson Captain DK Sharma said on Sunday. The merchant vessel is scheduled to dock at Aden
India, China and Japan have been cooperating with each other to tackle piracy since 2011 and India has maintained an anti-piracy patrol in the Gulf of Aden since 2008.
The three countries have deployed warships independently. Their role is conducting independent anti-piracy patrols in the internationally recognised transit corridor — a 480 nautical mile (approx 890 km) long area in the Gulf of Aden. The 92-km wide corridor starts at the confluence of the Red Sea and the Gulf of Aden and extends eastwards towards the Arabian Sea.
Top News
Severest of severe action taken: CM | Amritpal's lawyer alle...
BJP slams Cong for skipping RS Chairman's meeting
White House refuses to comment on claim