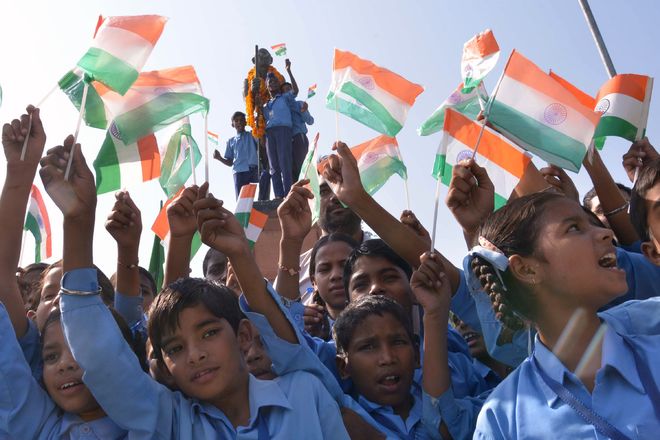 Aditi Tandon
Tribune News Service
New Delhi, October 2
Within eight months of launching the world's largest programme to eliminate the risk of parasitic worms among children, India has successfully achieved the global milestone of treating 50 per cent of all school goers at risk of worms. The global milestone on deworming was set by the WHO recently with the next target being the coverage of 75 per cent of all schoolchildren at risk by 2022.
The WHO confirmed India's achievement of the milestone in a letter to the Ministry of Health on September 29. "Based on the preliminary report of 155 million school age children in 14 states in India during 2015, WHO's Department of Neglected Diseases is confident that the 2015 Global Milestone of deworming coverage for school children (coverage of 50 per cent school age children at risk) has been reached and this has been achieved essentially due to efforts of the Ministry of Health," said the WHO's letter to CK Mishra, Additional Secretary, Health looking after the programme.
The ministry had on February 10 this year (which it declared National Deworming Day) launched the world's largest national deworming programme to treat the highest at risk child population in the world for parasitic worms. Treatments were made available in school settings.
With technical assistance from Deworm the World Initiative, a coalition of organisations led by the non-governmental organisation Evidence Action, the initiative was rolled out with the plan to treat an initial 140 million children at risk for parasitic worms in schools and pre-schools. It was later expanded to 155 million children.
Health Minister JP Nadda has launched the initiative to eliminate the public health threat of worms from India. States where the first phase of the programme was launched included Assam, Bihar, Chhattisgarh, Dadra and Nagar Haveli, Haryana, Karnataka, Maharashtra, Madhya Pradesh, Rajasthan, Tamil Nadu and Tripura.
With the WHO confirming the attainment of the global milestone on deworming, India is set to reach the 2020 target of treating 75 pc of school age population of worms.
At present, India has the highest burden of soil-transmitted helminths in the world with 241 million children at risk of parasitic worm infections. Soil-transmitted helminths are known to prevent nutrient uptake in children and are among the leading causes of anemia.
Top News
Odisha government has issued helpline 06782-262286. The rail...
At least 50 people died and 350 were injured in a three-way ...
12837 Howrah-Puri Superfast Express, 12863 Howrah-Bengaluru ...
WFI chief demanded sexual favours in lieu of supplements and...
Said agitation will be intensified by holding panchayats acr...