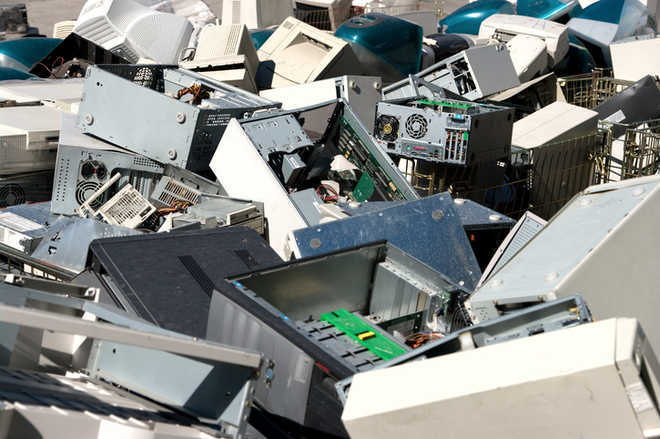 Vibha Sharma
Tribune News Service
New Delhi, June 27

Despite the Modi government's pitch for Swachch Bharat Abhiyaan, Make in India campaign, Smart Cities Project, Digital India Campaign and the Zero Effect Zero Defect policy (leaving zero effect on the environment), glaring gaps in management of environmentally hazardous e-waste are yet to be addressed.
India generates an estimated 1.7 million TPA (tonnes per annum) of e-waste but recycles only about 4,62,896 TPA, Union Environment Minister Harsha Vardhan said on Tuesday, expressing "dissatisfaction" that e-waste inventorisation had so far been completed by only five states.
(Follow The Tribune on Facebook; and Twitter @thetribunechd)
They are Punjab, Jammu and Kashmir, Himachal Pradesh, Goa and Madhya Pradesh.
Addressing a conference of Central Pollution Control Board, he urged the remaining states to complete the process of inventorisation of e-waste at the earliest.
Officials explain that preparing an inventory is the first step towards addressing the humungous problem threatening to play havoc with the environment and human health.
Referring to the Centre's flagship schemes like Swachch Bharat Abhiyaan, Make in India campaign, Smart Cities Project and Digital India Campaign, Harsh Vardhan said Make in India would adopt a Zero Effect Zero Defect policy, which would leave Zero Effect on environment.
There, however, continue to be huge gaps in the disposal of solid waste management, he said, adding that 50% of the waste collected is dumped unscientifically. Not just this, while 2,59,000 tonnes of plastic waste is generated every day, only 14 states/union territories have banned plastic carry bags.
And an equally big challenge is e-waste management.
While "estimated quantity of e-waste generated is about 1.7 million TPA, the quantity that is recycled is about 4,62,896 TPA," he said.
E-waste—constituting mobiles, laptops and other electronic items— poses a great threat not just to environment but also to human health. As per a Parliament report, 10 states contribute 70 per cent of the total e-waste generated in the country while 65 cities generate more than 60 per cent of the total e-waste in India.
Among the 10 largest e-waste generators are Maharashtra, Tamil Nadu, Andhra Pradesh, Uttar Pradesh, West Bengal, Delhi, Karnataka, Gujarat, Madhya Pradesh and Punjab, in that order.
And among top 10 cities generating e-waste, Mumbai ranks first, followed by Delhi, Bengaluru, Chennai, Kolkata, Ahmedabad, Hyderabad, Pune, Surat and Nagpur, says the report.
Government, public and private (industrial) sectors account for almost 70 per cent of total e-waste generation. The contribution of individual households is relatively small—about 15 per cent—while the remaining is contributed by manufacturers.
Top News
Polling began at 8 am and will continue till 5:30 pm
Over 1.45 crore electors are eligible to exercise their fran...
Discuss Russia-Ukraine war, highlight emerging security chal...
Presidents of nearly 40 parties have been invited to the mee...
The seized drugs are the spurious versions of leading brands...