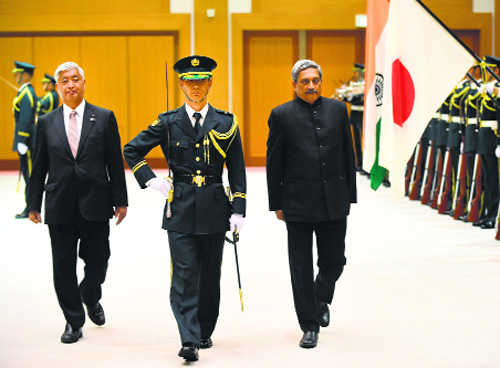 Ajay Banerjee
Tribune News Service
New Delhi, March 30
Clearly aimed at controlling information at high sea and sending a signal of expanding military ties, India and Japan today a discussed a specialized 24-nation maritime construct that would enable real-time sharing of data of all shipping – merchant and naval warships – operating in the Indian Ocean, parts of the Pacific Ocean and disputed waters of the South China Sea.
The matter was on the agenda of a high level defence ministerial meeting between Indian Defence Minister Manohar Parrikar and his Japanese counterpart General Nakatani in Tokyo today. Parrikar is on a four-day visit to Japan.
The two sides agreed to continue ministerial exchanges on an annual basis; hold vice-minister/defence secretary level defence policy dialogue in April, 2015; organize visits by Service Chiefs on reciprocal basis; continue bilateral exercises between Japan Maritime Force and Indian Navy on a regular basis and enhance discussions on future cooperation in defence equipment and technology.
India is looking to buy from Japan specialized amphibian plane and also Japanese-built diesel-electric Soryu class submarines.
The 24- nation construct is a path-breaking grouping of countries, including some neighbours of China, to share all maritime shipping data to ensure that all vessels at sea are accounted for. "This will include all vessels at sea, including warships", sources said.
Sources said these countries would be in the Indian Ocean and also neighbours of China, some of whom have running territorial disputes with Beijing and are located East of the Mallaca straits —- a crucial shipping choke point east of the Andaman Nicobar islands.
India's 'act east' policy has resulted in increased military cooperation with Vietnam, Japan and Australia, besides the 10-member ASEAN group.
India's fear of China stems from the use of a large number of non-military vessels like fishing boats to patrol in the contested waters of the South China Sea and attempts to curb freedom of navigation. India's east going two-way trade is worth US $ 60 billion annually.
Japan and China also have a territorial dispute in the East China Sea. Japan, on December 17, 2013, announced its National Security Strategy. The policy said: "Japan will strengthen relationship with India, including maritime security through joint training and exercises".
An official statement issued by the Ministry of Defence today said Parrikar also called on Japanese Prime Minister Shinzo Abe and quoted a latter as having said, "He wants to build a strong relationship with India not only in economic field but also in defence and security field. A strong India-Japan partnership is not only in the national interest of the two countries but is also important for peace and security in the region".
Top News
A cavalcade of seven security vehicles took Harjit Singh fro...
Mobile internet services in the remaining areas of the state...
2 bearded men wearing a cap poured flammable material at the...
Indian-Americans express outrage at the incidents of vandali...
Pentagon provided real-time intelligence to Indian Army on I...