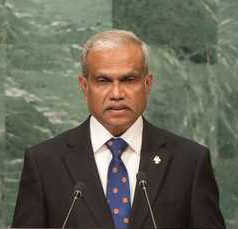 Smita Sharma
Tribune News Service
New Delhi, January 9
In a bid to reset ties, Dr Mohamed Asim, Minister of Foreign Affairs and special envoy of the President of Maldives, will arrive in Delhi tomorrow. The Minister will hold formal talks with his Indian counterpart Sushma Swaraj and call on Prime Minister Modi the next day, in what will be the first high-level exchange between the two neighbours following months of strain in ties.
Relations worsened as Maldives overnight ratified a free-trade agreement (FTA) with China in its Parliament, without taking the opposition on board. Maldives is only the second South Asian country after Pakistan to sign the FTA with Beijing.
(Follow The Tribune on Facebook; and Twitter @thetribunechd)
Speaking to The Tribune, Maldivian Ambassador Ahmed Mohamed recently refuted that New Delhi was caught by surprise over the FTA "since all negotiations were in public domain for the past two years". He also underlined there was no official promise of signing FTA with India first and "if China was willing to sign it quickly, there was no reason for Maldives to wait".
As special envoy of President Yameen, the formal meetings "without any specific agenda" while covering bilateral and regional aspects as per sources are expected to focus on ironing out differences and improve optics in ties. Media and public diplomacy have seemingly played a role among other factors towards relationship itches in last few months.
The Tribune has learnt that Male took exceptional objection to a senior journalist calling President Yameen a 'geopolitical serpent' in an analytical column in a national Indian English daily. In early December, a panelist and national security expert on state-owned Rajya Sabha TV advocated "contingent of marine commando going in there with two frigates and ending this wretched rule" referring to incumbent President Yameen. Later, a newspaper in Maldives, considered pro-Yameen, called Prime Minister Modi a "Hindu extremist leader" in its editorial, which was subsequently pulled down after a furore.
In a cautious response, MEA spokesperson Raveesh Kumar had asked "not all media reports to be taken seriously". The public outreach of Indian Ambassador Akhilesh Mishra in the tiny island nation is also believed to have not gone down well with him not just dining frequently with opposition leaders, but also tweeting about those meetings that are used by sections in the country for anti-India rhetoric.
All these issues have figured in official interactions in Delhi as well as a letter exchange between the two Foreign Secretaries recently. While Foreign Office exchanges have continued between the two sides, PM Modi's visit to Maldives is still pending since it was postponed in 2015, understandably following arrest of former President Nasheed.