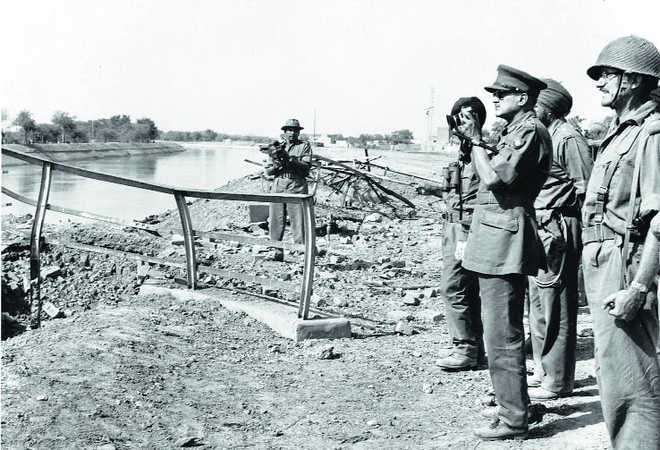 Ajay Banerjee
Tribune News Service
Chandigarh, December 9
India and Pakistan both surprised each other during the 1965 war and the developments in India, Pakistan and Jammu and Kashmir were possibly responsible for the clash that occurred in August-September that year.
Speaking at a session "Indo-Pak War 1965", Lt Gen TS Shergill (retd) said: "Pakistan's Operation Grand Slam in Chammb (J&K) was a surprise and India's response was a surprise too. Pakistan decided to send its armoured (tank) troops through Khemkaran (near Amritsar) instead of Suleiman-ke (just west of Fazilka), which worked in India's favour." Suleiman-ke was the shortest route to Delhi with no major water body on way to check the advancing troops, he said.
(Follow The Tribune on Facebook; and Twitter @thetribunechd)
Had Pakistan simultaneously coordinated the armoured attack through both the fronts, it could have dealt India a bigger surprise, said Lt Gen Shergill who, as a young officer, was a troop leader of the Indian Army's Deccan Horse Regiment at Khemkaran during the war.
Lt Gen JS Cheema, who retired as the Army's Deputy Chief on November 30 this year, cited developments in India and Pakistan as plausible reasons for the war and described these as "turning points".
"Within Jammu and Kashmir, fissures were there for the adversary to exploit," he said, citing the theft of the holy relic from the Hazratbal Shrine in 1963 and the release of Sheikh Abdullah from prison in 1964 and his subsequent speeches seeking self-determination for J&K.
In India, he said, Article 356 of the Constitution was extended to Jammu and Kashmir on December 1, 1964. Article 356 gives the Centre the power to dismiss a state government. The Government of India then changed the names of Sadar-e-Riyasat and Prime Minister to Governor and Chief Minister, respectively.
In 1960, the jurisdiction of the Indian Supreme Court was extended to the state of J&K. On the military front, India was raising new units in 1963 and those could not be launched into war. On the political side, Jawaharlal Nehru died in May 1964.
In Pakistan, Iskander Mirza, the then president, abrogated the Constitution in 1958 and declared martial law only to be deposed by Gen Ayub Khan. In early 1965, Ayub Khan defeated Fatima Jinnah, sister of Mohd Ali Jinnah, in an unfairly conducted election.
Punjab Finance Minister Manpreet Badal, who was among the speakers, narrated an interesting anecdote: "General Ayub Khan (Pakistan army chief who went on to become the president), as a child, was taught the 'mool mantra' (of Sikhism) by an elderly Sikh. And at the Army house when he became the chief, he had the mool mantra written in Urdu."
Gen Ayub Khan was suspended and almost court-martialled for cowardice during the Burma campaign under General William Slims. The now Army house in Rawalpindi was owned by an Indian, Gurbachan Singh. One of Ayub Khan's sons-in-law, Aurangzeb, also an Army officer, was a pass-out of the Doon School and he often visited India.