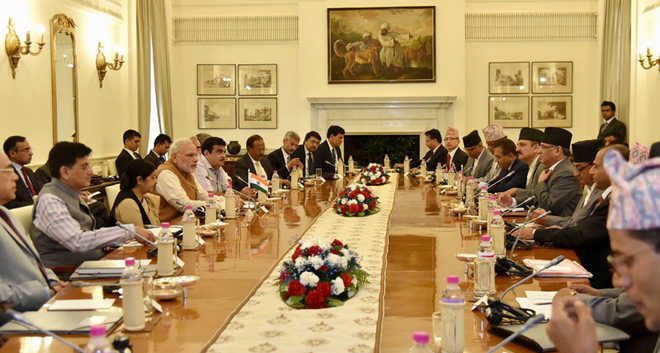 New Delhi, September 16
As Nepal undergoes a political transition, India on Friday pitched for implementing the country's Constitution by accommodating aspirations of all sections and assured it of all possible support amid China's efforts to gain ground in the Himalayan nation.
Prime Minister Narendra Modi held an "extensive and productive dialogue" with his Nepalese counterpart Pushpa Kamal Dahal, popularly known as Prachanda, after which the two sides inked three pacts, including one on India extending $ 150 million for Nepal's post-earthquake reconstruction.
It is Prachanda's first visit to India after becoming Prime Minister for the second time. KP Sharma Oli quit the top post in July following fresh political turmoil due to protest by the Madheshi community against the new Constitution.
The two countries also decided to continue cooperation in areas of defence and security.
In a statement to media following the talks, Modi said India hoped Nepal would be successful in implementing the Constitution through inclusive dialogue accommodating aspirations of all sections of its diverse society.
"As immediate neighbours and close friendly nations, peace, stability and economic prosperity (Shanti, Sthirta aur Samrudhi) of Nepal is our shared objective," the Prime Minister said in the presence of Prachanda.
On his part, the Nepalese Prime Minister said his country had nothing but "goodwill" for India and that destinies of both the countries are "interlinked".
The Prime Minister said India had been privileged to be Nepal's partner at "every step" of the country's development journey and economic progress. "Our friendship is time-tested and unique. We share our burden during difficult times, just as we celebrate each other's achievements."
Modi said both sides had agreed to focus on "close monitoring" and time-bound completion of all development projects being implemented by India in Nepal. He said speedy and successful implementation of ongoing hydropower projects would be ensured.
Showering praise on Prachanda for his efforts to bring stability to Nepal, Modi said, "I am confident that under your leadership Nepal will be successful in implementing the Constitution through inclusive dialogue accommodating aspirations of all sections of the diverse society."
"I conveyed to Prachanda that India stands ready and prepared to strengthen the development partnership with Nepal and we will do so as per priorities of people and Nepal government," Modi said.
About the political transformation in Nepal, Prachanda said his government was making sincere efforts in taking every section of society on board while implementing the provisions of the Constitution.
"I shared with Modiji that promulgation of the Constitution last year by the popularly elected Constituent Assembly was a historic achievement for the people of Nepal. You are aware that my government has made serious efforts to bring everyone on board as we enter the phase of implementation of the Constitution," he said. PTI