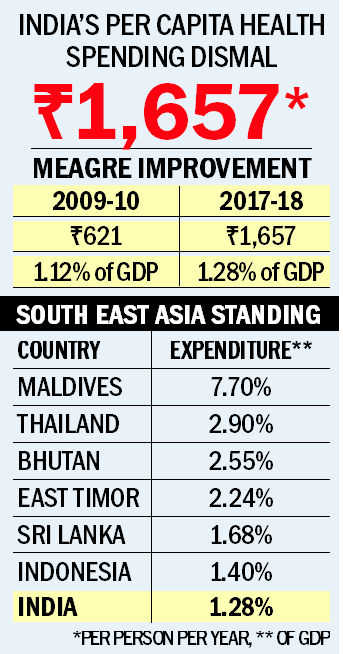 Aditi Tandon
Tribune News Service
New Delhi, November 1
India continues to be among the worst performers globally when it comes to public spending on health with the latest national health profile revealing that per capita per year government spending on health is a mere Rs 1,657.
This is nearly stagnant when compared to past data and also the reason for rising inequities in healthcare access due to mounting costs of treatment.
"The cost of treatment has been on rise in India and it has led to inequity in access to healthcare services. India spends only 1.28 per cent of its GDP as public expenditure on health. Per capita public expenditure on health in nominal terms has gone up from Rs 621 in 2009-10 to Rs 1657 in 2017-18," states the National Health Profile 2019 produced by the Central Bureau of Health Intelligence, a body under the Ministry of Health.
The ratio of Centre and state in total public expenditure on health stands at 37 and 63 in the latest year of assessment which is 2017-18.
The profile acknowledges that compared to countries with either Universal Health Coverage or plans to transition to UHC, India's per capita public spending on health is low. This is a stark finding given government's assurances in 2018 that the rollout of Ayushman Bharat Mission will make a difference and improve per capital government health spent data.
When the National Health Profile 2018 was launched, then Health Minister JP Nadda had said: "We will see improvement in public spending on health next year by which time Pradhan Mantri Jan Aarogya Yojna would have borne fruit and reached beneficiaries."
The PMJAY, which promises free hospital cover up to Rs 5 lakh to around 10 crore poor and vulnerable families listed in the socio-economic caste census of the Rural Development Ministry, was rolled out in September last year and has crossed the 50-lakh beneficiary mark. The National Health Profile 2019, however, does not seem to reveal enthusiastic data on improved public health spending, which was 1.12 per cent of the GDP in 2009 and is 1.28 per cent of the GDP now.
With public health spending still stagnant, Ayushman Bharat gains are under watch though government sources say real time data is available to show how the government is covering hospitalisation charges for the poor. Much of the money for the free cover is coming from a government cess.
Late Finance Minister Arun Jaitley had in 2018 replaced 3 per cent education cess on personal income tax and corporation tax with 4 per cent health and education cess.
The NHP 2019, however, says: "There is no significant change in government expenditure on health since 2009-2010."
'Inequity in access to health services'
The cost of treatment has been on rise in India and it has led to inequity in access to healthcare services. India spends only 1.28 per cent of its GDP as public expenditure on health. —National Health Profile