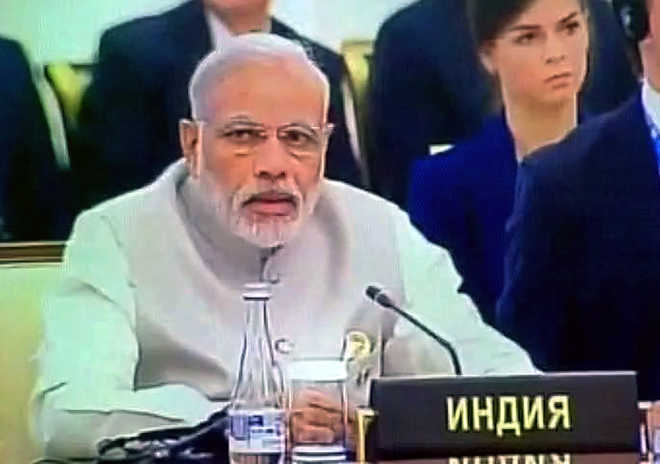 Tashkent, June 24
As the final process for India's accession as a full member of the SCO began, Prime Minister Narendra Modi said on Friday India's ties with the bloc will help protect the region from threats of radicalisation and violence asserting that it would adopt "zero tolerance" to terrorism.
In his address at the Shanghai Cooperation Organisation (SCO) summit, Modi said India would significantly benefit from the grouping's strengths in energy and natural resources and in turn India's strong economy and vast market could drive economic growth in the SCO region.
He said India's membership of the SCO would help drive up the region's economic growth.
(Follow The Tribune on Facebook and Twitter @thetribunechd)
"India's membership of SCO would contribute to region's prosperity. It would also strengthen its security. Our partnership will protect our societies from the threats of radical ideologies of hate, violence and terror."
"India will unite with SCO countries to work towards this goal. And, we will adopt zero tolerance and a comprehensive approach in fighting terrorism at all levels," said Modi.
At the summit, India signed the SCO's Memorandum of Obligations, kick-starting the process of its accession into the group as a full member.
India will have to sign around 30 other documents in the course of the year to complete the process for membership.
Pakistan is also being inducted into SCO as a full member.
The SCO is increasingly seen as a counterweight to NATO and its membership will help India have a greater say in issues relating to security and defence besides combating terrorism.
India, one of the largest energy consuming countries in the world, is expected to get greater access to major gas and oil exploration projects in Central Asia once it becomes a member of the SCO. Many of the SCO countries have huge reserves of oil and natural gas.
In his address, Modi exuded confidence that India's engagement with all SCO members will help in build a region which is an engine of economic growth for the world and is more stable and secure internally and strongly connected with other geographies.
"We are indeed grateful to the SCO Member States and its leaders for their overwhelming support for India's membership of the SCO. I also welcome Pakistan as the new member of the SCO," said the Prime Minister.
Seeking deeper economic engagement, Modi said India's capacities in trade, investments, information and communication technology, space, agriculture, health care, small and medium scale industry can bring wide spread economic benefit to the SCO countries.
"We would represent 40 per cent of humanity and over a billion youth. To this group, India brings principles that are in tune with the philosophies of the SCO. India has always enjoyed good relations with the Eurasian land mass," he said. — PTI