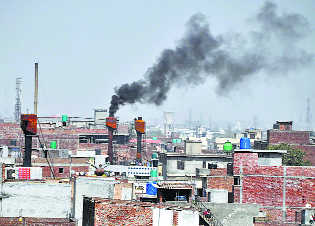 Tribune News Service
New Delhi, September 2
Ahead of a global climate pact in Paris later this year, world's third largest polluter India has pledged to reduce emissions intensity — the amount of carbon per rupee of economic output — by 33-35 per cent by 2030. It will do so by increasing the share of non-fossil fuel by 40 per cent and planting additional forest and tree cover at a cost of around $2.5 trillion.
"India, even though not part of problem, wants to be part of solution," says country's Intended Nationally Determined Contribution (INDC) document submitted to the United Nations Framework Convention on Climate Change in Bonn, Germany, on Thursday.
The INDCs highlight India's need for finance and technology assistance from developed countries and their historic responsibility. "India expects an ambitious, equitable and effective global agreement in Paris," the document says.
INDCs are voluntary pledges that countries will take to cut carbon emissions ahead of Conference of Parties (CoP) in Paris. Environment Minister Prakash Javadekar here expressed confidence of achieving the ambitious cut, which is much more than its current voluntary commitment. India's current voluntary pledge is to reduce emission intensity of its GDP by 20 to 25 per cent by 2020, with a baseline of 2005. The pledged intention is therefore a 75 per cent jump in ambition over 2020, Javadekar said.
India's "comprehensive and ambitious" pledge to reduce greenhouse emission intensity by 35 per cent includes achieving 40 per cent installed capacity for electric power from non-fossil fuel resources by 2030 — an increase of 33 per cent from present capacity. Running one of the "largest renewable capacity expansion programs in the world", India will achieve 175 GW renewable energy capacity by 2022 through 100 GW of solar, 60 GW of wind, 10 GW of biomass and 5 GW of small hydel. "Our INDCs are comprehensive, ambitious and progressive and reflect all issues of mitigation, adaptation, finance, technology transfer and capacity building," said Javadekar.
The per capita emissions by India, third largest after China and the US, are 1.6 tonne per person, much lower than China (7.1 tonne/person), US (16.4 tonne/person) and Russia (12.4 tonne/person), the document says. It also highlights the historical carbon space occupied by India — just 3 per cent, with 1850 as the base year. In comparison, US occupied 29 per cent, China 10 per cent and other developed nations 45 per cent of the historical carbon space.
The Kyoto protocol does not demand India, a developing nation, to cut down emissions at least till 2012 — the first period of commitment. In 2009 Copenhagen CoP, when Environment Minister Jairam Ramesh "unilaterally announced that India would reduce its economy wide energy intensity", he drew flak from Opposition parties for "compromising India's position".
Javedkar, who maintained that "gradually developing nations had assumed greater responsibilities", underlined the historic responsibility of developed nations towards the impending crisis.
He said at least $2.5 trillion (at 2014-15 prices) would be required for meeting India's climate change actions between now and 2030 for implementing adaptation actions in agriculture, forestry, fisheries infrastructure, water resources and ecosystems. While India's climate actions had so far been largely financed through domestic resources, any substantial scale-up of climate action plans would require greater resources, he added.
In her speech at the General Assembly of the United Nations, External Affairs Minister Sushma Swaraj also underlined the responsibility of developed countries in this regard. Swaraj said developing countries could do more if they were enabled in their efforts with the provision of finance, technology transfer and capacity building support from developed countries.