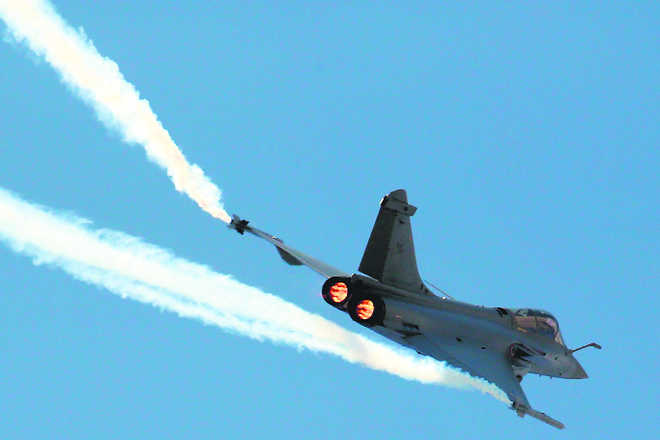 Ajay Banerjee
Tribune News Service
New Delhi, February 21
Its fleet of fighter jets dwindling, the Ministry of Defence (MoD) is set to float a fresh global tender inviting military aviation companies to make fighter jets in India.
The move comes as the Air Force is now down to 31 squadrons against the need of 42, as mandated by the Cabinet Committee on Security. Each squadron has 16-18 planes. The request for information (RFI), the first step in the tendering process, is being finalised and will be sent out to global players, sources said.
(Follow The Tribune on Facebook; and Twitter @thetribunechd)
Companies that participated in the now scrapped Medium Multi-Role Combat Aircraft (MMRCA) project will be invited. The MMRCA project for 126 jets did not fructify and the government, in April 2015, announced the move to buy 36 Rafale fighter jets from French major Dassault.
The MoD and the IAF will keep its options open and not restrict itself to say a "single engine" fighter jet, sources have told The Tribune. The option will be to get a "fighter jet" and it will not specify the number of engines as that then restricts the options.
These will be under 'make in India' and to get global manufactures to have a production line in India, the project needs adequate numbers with possibility of future expansions. To speed up matters, the MoD will be looking at new additions made by global players since the MMRCA trials were carried out in 2011. The planes tested then were Lockheed Martin's F-16IN, US Boeing's F/A-18IN, Eurofighter Typhoon, French Dassault's Rafale, Swedish Saab's Gripen and Russian MiG-35.
In past two years, the IAF and the MoD were in talks for a "single engine" fighter jet with two global manufactures. However, this has been superseded by the thought process to just focus on getting additional jets without getting into "single engine" or "twin engine" variants. The existing production of 123 Tejas fighter jets being made by public sector giant Hindustan Aeronautics Limited is just taking off and it will take more than a decade for the entire lot to be manufactured. The IAF has the mandate to have 272 Sukhoi 30 MKI in its fleet. The MiG 21s are on their last legs and have to be phased out.
---
Tenders soon
110-115
fighter jets IAF needs
31
squadrons Air Force has currently against mandated 42