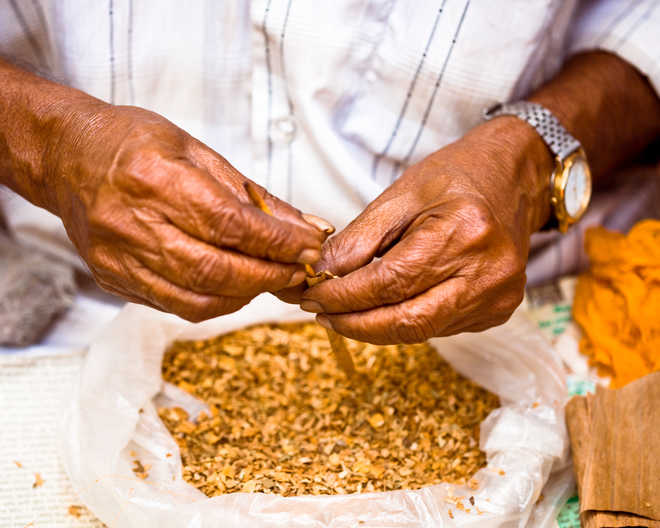 Aditi Tandon
Tribune News Service
New Delhi, May 2
The Cabinet on Wednesday cleared the decks for ratification of WHO Protocol to Eliminate Illicit Trade in Tobacco Products by India. The protocol applies to prevention of illegal trade of both smoking and smokeless (chewing) forms of tobacco.
The move comes in the wake of a growing illegal tobacco market in India which is threatening tobacco control by flooding the markets with cheaper foreign brands of tobacco that are in turn easily accessible to consumers.
Illicit cigarette market is particularly growing with the local tobacco industry estimating the market at 20 per cent of the whole.
Illicit tobacco products are not only cheaper because they are out of the domestic tax net, these are also more attractive to consumers by way of non-compliance with the anti-tobacco pictorial health warnings.
A cigarette package with 85 per cent anti-tobacco warning on both sides is naturally no attraction to anyone who lays hands on an attractively packaged foreign cigarette brand without any pack warning.
Flooding of local markets with illegal tobacco has long hampered local industry as well as government's attempts at tobacco control.
The Cabinet nod to ratification of this protocol which is part of the UN Framework Convention on Tobacco Control aims to push the specific anti tobacco targets under the UN Sustainable Development Goals.
SDGs ask member nations to achieve the target of 30 per cent relative reduction in tobacco use among persons aged 15 years and more by 2025.
In line with the global commitments India's National Health Policy 2017 also seeks to achieve relative reduction in the prevalence of tobacco use by 15 per cent by 2020 and 30 per cent by 2025.
One of the key tobacco supply reduction strategies contained in Article 15 of the WHO FCTC, the first public health treaty negotiated by the UN, envisages elimination of all forms of illicit trade of tobacco products including smuggling, illicit manufacturing and counterfeiting.
The said protocol was accordingly developed.
A greater share of illicit tobacco trade in India comprises cigarettes which have historically been subjected to higher taxes in India than 'bidis' and smokeless tobacco.
Though the cigarette industry in India estimates illicit cigarette trade at 20 per cent of the total market, a recent study by Rijo M Josh and Hana Ross found this share to be 2.73 per cent. "We collected 11,063 empty cigarette packs from 1,727 retailers, and 2.73 per cent of them were classified as illicit. Estimates varied substantially across locations with the highest prevalence of illicit packs in the town of Aizawl near the Bangladesh and Myanmar border (35.87%). The share of illicit cigarettes was found to be much higher (13.77%) among the cheapest cigarette brands. Illicit cigarettes are primarily distributed via formal stores rather than informal tea and pan shops," this study said.
With the illegal tobacco trade market real, there is also an understanding that it is more lucrative to deal in cigarettes than 'bidis' and chewing tobacco. This is due to higher taxes on cigarettes.
In fiscal year 2017-2018, excise tax per cigarette stick longer than 75 mm was Rs 4.42 rupees compared with Rs 0.02 rupee per 'bidi' stick. The total tax is around 52 per cent for cigarettes while taxes constitute only 19.2 per cent of the retail price of 'bidis'. Therefore, there is a greater incentive to evade taxes on cigarettes than on 'bidis' and greater share of illegal trade is also in this sector.