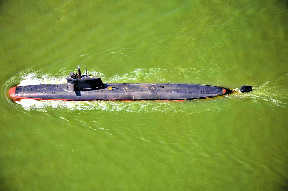 Ajay Banerjee
Tribune News Service
New Delhi, February 8
Deepening its strategic reach in China's backyard, India has offered training facility to the Indonesian Navy, including submarine operations.
Finer details of the growing closeness emerged as a post-script to the December 2016 visit to India by Joko Widodo, Indonesian President.
The widening scope of relations with Indonesia shall now comprise naval training facilities, including training on use of submarines, a senior functionary said. Air force exercises have been added to the existing army-to-army contact between the two countries. Indonesia has ordered three types of diesel attack submarines from Korean company Daewoo and it operates two German-made submarines. Jakarta is also India's largest trading partner in the ASEAN (Association of Southeast Asian Nations) with bilateral trade of US$15.9 billion in 2015-16. New Delhi is also looking to supply some home-grown sub-parts and assemblies to defence manufacturing units in Indonesia.
The two countries have decided to ramp up maritime cooperation which mandates both sides to draw up an MoU for cooperation in this area. Indian and Indonesia strategic interests match each other as they are separated by the straits of Mallaca, the busiest sea trading route lying just south of the Andaman Nicobar islands in the Bay of Bengal. The two countries have shared a draft of sharing 'white shipping' information on merchant ships. India has such agreements with 24 other countries. The two sides will be commencing a strategic dialogue, a security dialogue and will negotiate a new 'Comprehensive Defence Cooperation Agreement'.
A defence ministers' dialogue and joint defence cooperation committee meetings are also slated this year.