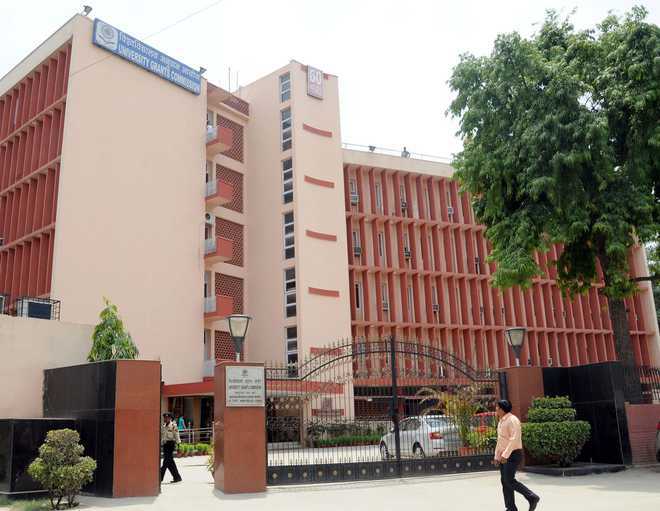 Aditi Tandon
Tribune News Service
New Delhi, August 1
Alarmed by the rise in Indian research contributions to fake journals, a UGC committee has recommended stern measures to preserve academic ethics and deter plagiarism.
The panel constituted to recommend ways to improve university research in India has proposed to the government to stop considering publications in predatory journals or presentations in predatory conferences for academic credit for selection to teaching positions, confirmation, promotion, appraisals, award of scholarships or academic degrees or credits in any form.
"Research publications only from journals indexed in CARE Reference List of Quality Journals should be used for all academic purposes," the committee has said in its report to the HRD Ministry, which has placed the document in public space for wider consultations. The expert committee report records alarming trends in respect of deteriorating research at university level in India.
Although it shows that the number of admissions to PhDs has almost doubled between 2010 and 2017, it also reveals that the purpose of higher enrolment at research level is the rule that mandates a PhD for teaching assignments in universities.
The report notes that the mandatory requirement of publications in journals/conference proceedings for award of doctoral degrees and as a metric in evaluating faculty under the overall academic score is resulting in a proliferation of predatory journals and conferences, which have abandoned classical peer review as a method of quality control.
Indian academics have contributed 35 per cent of all articles published in various kinds of fake journals lately, says the report, adding that independent sources have identified over 11,000 fake journals. Studies have also found that from a total article volume published in predatory journals, the large share is of articles in engineering journals, followed by biomedicine and social sciences. "Plagiarism and data manipulation are issues of great concern, which damage the credibility of research emanating from our institutions. This has to stop," the committee said.
CURRENT STATS
11,000 Total fake journals
35% Articles by Indians
Maximum articles in engineering journals, followed by biomedicine and social sciences
10% growth/yr
Year

: PhD admissions
2010-11

: 77,798
2017-18

: 1,61,412
Maximum enrolments in science, engineering and technology, followed by social science and humanities
Top News
Writes to Mohit Rajan, Deputy Secretary in the MS Branch of ...
The quantum of punishment will be pronounced by the court la...
Amritpal's counsel on the other hand contended that he was i...
During the intervening night of March 27-28, BSF troops dete...
Sukhwinder Singh ran a finance business in Manila for the pa...