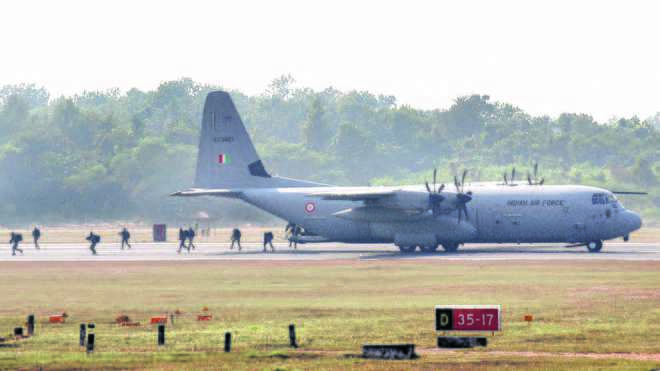 Shubhadeep Choudhury
Tribune News Service
Kalaikunda, December 10
The third edition of the joint exercise of air forces of India and USA, Cope India 18, entered the last and most crucial phase today. As many as 30 aircraft of both forces are taking in this phase that will last five days.
The last phase of the exercise, which started on December 4, will consist of advanced beyond visual range (ABVR) target engagements by both forces.
Twenty-one IAF fighter-bombers — 10 Sukhois, six Mirage and five Jaguars — are taking part in the exercise while from the US side 12 F-15 fighters are participating.
Air Commodore J S Mann, IAF exercise director, said: "At each phase of the exercise the number of aircraft go up. In 'within visual range' exercises no more than two aircraft take off at a time. As we go to the next phase, the number of aircraft goes up."
Besides, three C-130H transport aircraft and two C-130J transport aircraft have been deployed by USA and India, respectively, for the exercise which will go on till December 14. The transport aircraft, used for shipping equipments required for the exercise, have been stationed at the IAF Base at Panagarh. The IAF has deployed the indigenously developed AEW&CS integrated with a Brazilian Embraer aircraft for the drill.
As many 550 crew members, including 150 from the US air force, are taking part in the exercise which is happening after 13 years. While the first Cope India had taken place in Gwalior in 2004, the next one took place in Kalaikunda in 2005.
US air force exercise director Colonel Darryl Insley, while profusely praising the professionalism of the IAF pilots, said this kind of exercises prepares for future joint operations. Similar sentiments were also expressed by officials representing the Indian side. However, both Indian and US officials were careful not to mention China as a possible factor bringing India and USA closer. Interestingly, two military pilots from Japan are also taking part in the exercise as observers.
Top News
Stringent National Security Act has been invoked against Amr...
In his first reaction to the police action, the CM releases ...
Mobile internet services in the remaining areas of the state...
A cavalcade of seven security vehicles took Harjit Singh fro...
2 bearded men wearing a cap poured flammable material at the...