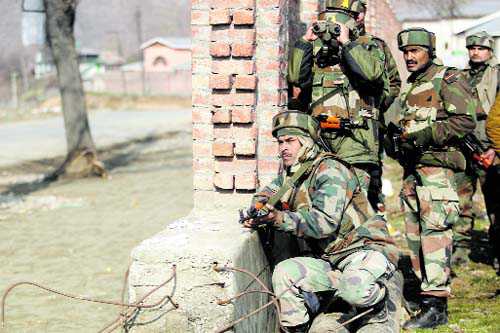 Ajay Banerjee
Tribune News Service
New Delhi, March 3
Indian security agencies are searching for an "enemy within", who allegedly helped a person based in Pakistan to spread military-related information in real-time using Twitter.
A probe is on in New Delhi as to how a man in Karachi was uploading pictures on the web in real time of the gunfight between terrorists and security forces at Pampore in Jammu and Kashmir between February 20 and February 22. Seven tweets of the person are under scrutiny.
The Army and the CRPF had been locked in an encounter with terrorists, who had stormed a building of the Jammu and Kashmir Entrepreneurship Development Institute (JKEDI) at Pampore.
Security agencies were baffled over the real-time pictures being uploaded on Twitter from an account, which suggested the person was based in Karachi. Also, the pictures are from such locations where it's impossible for any photographer to reach. The person has 13,000 Twitter followers.
(The name of his Twitter handle is being withheld as a probe is on). The Karachi-based person, in one of his tweets, credited a Mumbai-based person (name withheld) for the pictures.The Twitter account of the Mumbai-based person is accessible to only 72 persons.
The most vital link is the person, who clicked the pictures and possibly circulated the same using either WhatsApp or Hike to the Mumbai-based person, who further tweeted them to his closed group, and from thereon, the Karachi-based person picked them up.
Here are the tweets that are under probe.
At 10.28 am on Feb 22: A tweet from Karachi showed the bullet-riddled body of Capt Pawan Kumar Khatkarat a hospital. It's a close-up shot taken from less than 5 feet away and inside a hospital. The media was reportedly not allowed inside the hospital.
At 10.32 am on the same day, the Karachi-based man posted two pictures of an Army mini-UAV - one ready to take off and another one flying at a low altitude to locate terrorists at Pampore. The tweet appeared almost real-time and the UAVs were used in the operation, said sources.
The Karachi-based Twitter handle also uploaded pictures of a CRPF convoy, the JKEDI building set on fire and bodies of terrorists surrounded by Army men.