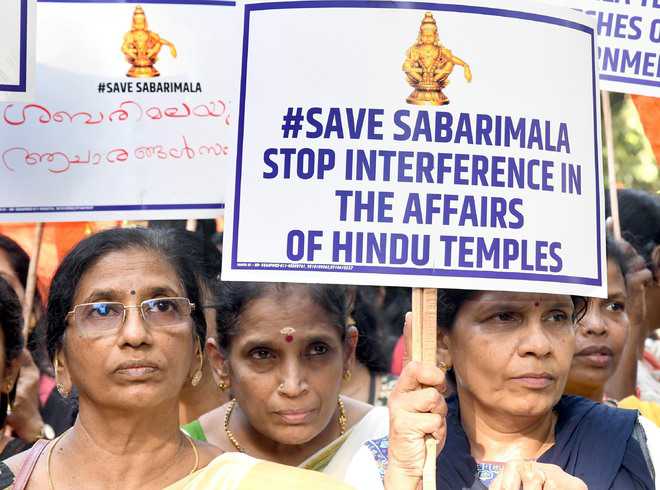 BY Satya Prakash
T he Supreme Court's verdict removing age restrictions on entry of women to the famous Lord Ayyappa Temple at Sabarimala in Kerala has exposed the limits of judicial interventions based on constitutional morality in dealing with perceived discriminatory religious practices.
The verdict — which has stirred up a hornets' nest of angry women devotees — highlights the shortcomings of the "essential practices" test applied to deny a religious denomination status to Sabarimala Temple and Lord Ayyappa's devotees.
Almost every village in India has a different religious practices and applying a straight-jacketed "essential practices" test can destroy religious diversity and pluralism practised since times immemorial in Hinduism — once described by the SC as a way of life.
The ruling by former CJI Dipak Misra and Justices AM Khanwilkar, RF Nariman and DY Chandrachud raises certain fundamental questions about relationship between the State and religion in a constitutional democracy which guarantees a set of fundamental right to every citizen — the most important of all being right to life, right to equality and right to religion.
As an institution, religion has existed for millennia and pre-dates the modern Indian State — a constitutional entity which is less than seven decades old. India has nurtured diverse and even extreme religious practices. There are several temples where men are not allowed. Indians worship Lingam and Yoni, animals, rivers, trees, plants and what not. It's not for the State or its instrumentalities to apply rational yardsticks and judge the validity of such practices unless it borders criminality.
"... the court cannot impose its morality or rationality with respect to the form of worship of a deity. Doing so would negate the freedom to practise one's religion according to one's faith. It would amount to rationalising religion, faith and beliefs, which is outside the ken of court," noted Justice Indu Malhotra in her dissenting verdict.
Unlike in Europe, where religion had established a vice like grip over the State, in India it was much more benign and didn't disturb the State. It's rather strange that while in Europe, the process of separating religion from the State gave birth to secularism; a secular State like India has been busy controlling religious institutions and correcting religious practices.
This is not to suggest that the State can't intervene in matters relating to religion. Article 25 — which guarantees fundamental right to religion — authorises the State to make laws to regulate economic, financial, political or other secular activity associated with religious practices. Article 26 is aimed at ensuring religious diversity and pluralism.
Article 25 and Article 26 together represent a social contract between religion and the State and draw a 'Lakshman Rekha'. The verdict appears to be a victim of political correctness and an attempt to secularise Hinduism as it over-stretches the notions of equality and discrimination.
The Supreme Court will get an opportunity to reconsider its verdict very soon as review petitions are being filed soon. Will it correct it?
Top News
5 names recommended by Collegium for SC judges to be cleared...
Lok Sabha adjourned till 2pm; Rajya Sabha till 2.30pm
The apex court directs the Centre to produce original record...
The crackdown began early in the morning across the state an...
Apart from Adani Enterprises, the other two firms listed by ...