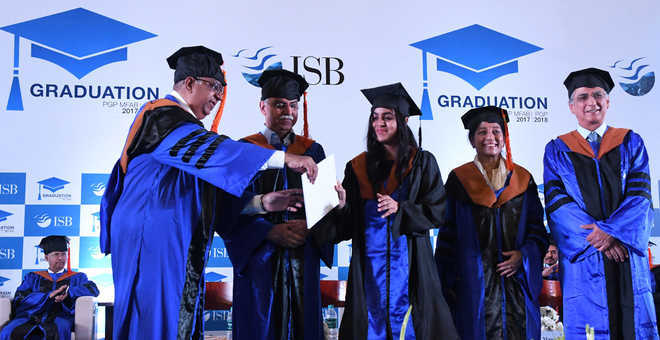 Naveen S Garewal
Tribune News Service
Hyderabad, January 28
The Indian School of Business (ISB) has found itself in London-based newspaper Financial Times Global MBA Rankings 2019.
Considered India's best business school with branches in both Hyderabad and Mohali, ISB has been ranked 24th among the world's top business schools—an improvement of four positions from its rank in 2018. It's the only business school to figure in top 25 business schools.
ISB Dean Rajendra Srivastava told The Tribune that emphasis on the selection process and detailed studying of growth markets have been factors that have affected its rankings.
"There has seen a 187 per cent rise in the salary its own alumni," he said—a parameter on which the school is ranked 3rd worldwide.
"At 34 per cent, ISB has the largest intake of women students amongst Indian business schools. The other key parameters that helped in achieving high ranking included weighted salary, percentage of aims achieved, career services success, value for money, alumni recommendation, etc," he said.
"ISB was established with a vision to be a globally top ranked, research driven, management institution. After 12 years of the School's consistent top performance in the FT Global MBA Rankings 2019 we can be proud of our global positioning as an institute of eminence from India. It is very heartening to see three other prominent business schools from India feature in the Top 100. This goes a long way in helping strengthen the Study in India initiative and help promote India as a destination for high quality management education." Srivastava said.