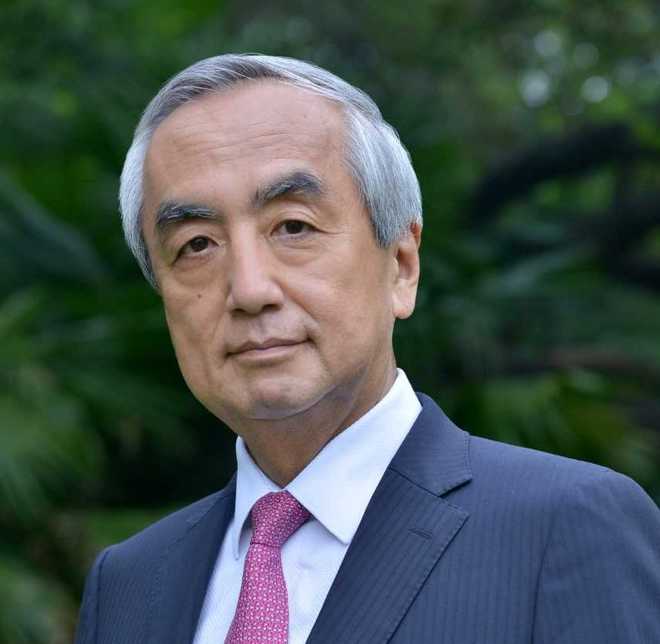 K V Prasad and Sandeep Dikshit
The Ambassador of Japan to India Kenji Hiramatsu spoke to The Tribune on a wide range of subjects. It included Japan's decision in April this year to open its doors to skilled professionals in a wide range of professions in order to beat the economic ramifications of an aging population and a unique meeting of all regional Japanese Ambassadors with External Affairs Minister S Jaishankar recently in Delhi which was Hiramatsu's initiative.
Japan is also already helping India revamp its transport sector by assisting in the construction of the bullet train, metros in several cities and two freight corridors cutting across the country that will speed up passengers and goods trains with all-round benefits to the people and the economy.
Japan was the first country to express solidarity with India when the stand-off with China over Doklam occurred and Hiramatsu suggests that the route to Japan's relationship with Bhutan does not go via Delhi but rests on close relations between the Imperial and Royal families.
In addition, Hiramatsu also touched on the developing defence relationship between the two countries which will find further expression in joint research on UGVs (Unmanned Ground Vehicle) and robotics technology. Both countries are negotiating an agreement, such as the one India signed with the US, which will give their militaries easier access to each other's naval bases.
Japan and India are also in the final lap of sealing a deal for US-2, a sophisticated land-water aircraft, which could blossom into converting India into an aviation hub.
There are six achievements of the India-Japan ties in recent times: i) The convergence of strategies; ii) The launch of a high speed railway project; (iii) Agreement for Cooperation in the Peaceful Uses of Nuclear Energy; (iv) The fundamental upgrading of economic relations, (v) Significant deepening of people-to-people exchanges and (vi)Third country projects, such as the hospital in Kenya. In addition, what kind of breakthrough do you expect in the coming days in defence trade?
Japan and India have made significant progress in the security and defence sector. Our leaders agreed to hold ministerial 2+2 meeting, and we're currently negotiating ACSA (Acquisition and Cross-Servicing Agreement). As for defence equipment, 'Agreement between the Government of Japan and the Government of India concerning the transfer of defence equipment and technology' was signed three years ago.
As the first step to implement this agreement, Japan and India began a joint research on UGV (Unmanned Ground Vehicle) and robotics technology last year. A future cooperation which deserves the word "breakthrough" will be on US-2 amphibian aircraft. At the last summit meeting, our Prime Ministers agreed that the two sides will continue to make efforts with regard to cooperation on this 'symbolic' aircraft.
Private sector plays a significant role too. The discussion involving both public and private sectors has deepened. On such occasions as the Japan-India Defence Industry Forum and Aero India, we hope to see cooperative projects being concretised, which utilise, for example, Japan's advanced IT technologies.
The recent meeting with External Affairs Minister S. Jaishankar of six Japanese ambassadors from neighbouring countries seems to be a rare event. What motivated Japan to make this huge diplomatic effort? Does it reflect the inability to quickly get Japanese initiated projects in north east, Bhutan and Myanmar off the ground?
I proposed the idea of having such a meeting among Japanese Ambassadors in the region three years ago given the importance of the South Asia region in Japan's diplomacy. We had the first South Asian Japanese Ambassadors' meeting in 2016, and it has been held annually in India, Nepal, Sri Lanka, and again in India this year. This meeting has a strategic value. The Indian side appreciated the discussions with our Ambassadors in the region.
The importance of this area is evidently increasing, let alone its economic growth. The region is at the heart of a Free and Open Indo -Pacific. Japan and India are cooperating in third countries to realise our shared vision for a Free and Open Indo-Pacific, such as the Colombo South Port East Container Terminal (ECT) project in Sri Lanka. The meeting presented an excellent opportunity to share information and discuss future collaborations in the region, including connectivity projects.
The meeting with Jaishankar saw the presence of Japanese Ambassador in Pakistan when India has no joint cooperation projects with that country. Would you tell us of the significance of the Japanese envoy to Islamabad at the meeting?
The meeting among Japanese Ambassadors in the region is a useful platform to exchange views from a larger context of South Asia and beyond. It is important for us to have a deep understanding about the situations surrounding South Asian countries, including Pakistan.
Japan has listed Agreement for Cooperation in the Peaceful Uses of Nuclear Energy as a significant India-Japan achievement in recent years. Is there a hitch in forming a working group on joint ventures and building of nuclear reactors in the country?
After the agreement between the two governments for cooperation in the peaceful uses of nuclear energy, we have been discussing the specifics of cooperation with the Government of India. We will keep cooperating with them to realise this project.
India and Japan have the first joint third country project in Kenya. Will you give us an overview of the often talked about India-Japan joint venture to build a corridor to Africa?
Japan-India cooperation in African countries is an important element in a Free and Open Indo-Pacific and has a great potential to be explored further. In Kenya, our two countries are cooperating for the establishment of a hospital for cancer treatment.
Speaking of the private sector activities with Africa, India has a great experience in doing business in Africa, and Japan has an advantage in high technology. Japan and India are natural partners for African development. We can further collaborate in a mutually complementary manner. I hope to see more collaborative projects in Africa and the two countries contribute to the improvement of people's life there.
Japan came out firmly in support of India during the Doklam standoff with Chinese PLA. Bhutan needs development and there has been Japanese interest in meeting Bhutan's legitimate requirements so that it does not have to turn to China like some of India's neighbours. Will you elaborate on that?
Japan and Bhutan have nurtured a friendship based on our cultural affinities and traditions. The close relations between the Imperial and Royal families provide the basis for our strong bonds. Japan has been standing side by side with Bhutan over many years. Historically, the agriculture and infrastructure field has been highlighted in our bilateral cooperation. However, now our assistance to Bhutan has diversified into such areas as medical sector and disaster risk reduction. Our assistance aligns with the development program of Bhutan in our effort to support its self-reliant development.
I am pleased to see our cooperation is expanding to business, Japanese language education and people-to-people exchanges. We would like to further strengthen and develop the Japan-Bhutan bilateral relationship in every possible way.
Japan has an ageing population and its concerns were reflected in the G-20 agenda during Japan's chairmanship. What are Japan's ideas to make silvering of the population a less painful process? With an ageing population, how is Japan looking at temporary intake of guest workers? Is there an opportunity for Indian workforce? Does India-Japan CEPA have a provision for this?
Aging population reflects the maturity of Japanese health and medical services, such as universal healthcare system in Japan. We recognise this with pleasure and the Japanese government is enforcing various policies for the elderly so that they can live and work with a motivation in life.
Simultaneously, Japan is facing the shortage of workforce especially in small and medium enterprises. To tackle this problem, the new Status of Residence "Specified Skilled Worker" was introduced in April, 2019. With this policy, foreign workers who have engaged in jobs that require proficient skills in Specified Industry Fields are qualified to work in Japan too.
There is also a scheme called Technical Internship Training Program, under which, foreign nationals can learn specific skills during their temporary (up to five years) stay in Japan. Already some Indian people are taking advantage of this scheme, taking internship, such as factory workers, caregivers and agricultural workers. We would like more Indian workers to come to Japan under this scheme.
Israel, Australia, Canada, China and several other countries are looking for opportunities to the north of Delhi, in the states of Haryana, Himachal and Punjab. Japan has traditionally looked at the west and south after taking its first initiatives in Delhi NCR region. Is there a plan to reorient Japan's focus on India?
For Japan, every part of India offers a great opportunity and potentials. To take an example, Haryana is a host for a number of Japanese companies with sizeable investments. A vivid example is Maruti Suzuki, which was jointly established by Suzuki, Japan, and Maruti Udyog, India, in 1981. Since then, Maruti Suzuki has contributed to Haryana's and Indian economic development for nearly 40 years. Gurugram is also buzzing with a number of Japanese companies placing their headquarters for operations in India.
With Punjab, we are closely working with Chief Minister Capt. Amarinder Singh and other high level officials. Japanese companies, including SML Isuzu, Yanmar and Toppan are already operating in Punjab. But when I met state officials and business executives in my recent visit to the State, I found further opportunities in smart city, energy, as well as agriculture and food processing. We are looking forward to advancing our relations.
Top News
She is administered the oath of office on Tuesday morning
AAP and Bharat Rashtra Samithi, however, say no to discussio...
Soon after the House meets at noon after the first adjournme...
A man who was in the court to attend a hearing attacked alle...
The three artistes -- Adam Berry, Gurujas and Harijiwan -- a...