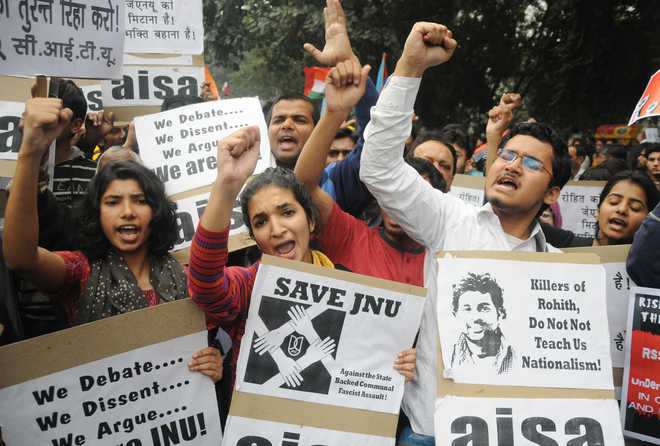 New Delhi, February 23
Delhi Police's report on the ongoing in Jawaharlal Nehru University (JNU) row makes no mention of the slogan "Pakistan Zindabad" — a claim they had originally made when they charged eight and arrested one student leader for sedition — sources said.
Neither does the report — which cities JNU's internal committee's findings to back their sedition charges — mention the names of the witnesses who heard the chants, although it claims some policemen did hear them. The report — sent to Delhi Police Commissioner's office on Sunday — lists 29 "unconstitutional" slogans that were allegedly raised at an event in the university on February 9 but fails to identify those who actually raised them.
Proof of sedition the report provides against Kanhaiya Kumar — the student leader who was arrested for the event — is his "presence" when a group raised anti-national slogans and attributes it to unspecified eyewitnesses and a video clip allegedly of the event provided by a new channel.
The report also names fellow suspects Umar Khalid and Anirban Bhattacharya as the main organisers of the event but does not say whether they had been involved in raising the slogans.
The report also mentions that the police had not entered JNU without permission, sources said.
It also quotes the university's internal inquiry to accuse the eight students of deliberately presenting the event as a cultural evening, holding the event without permission and creating a law and order problem on the JNU campus.
Police's report assumes significance since police had specifically mentioned the slogan "Pakistan Zindabad" previously — once when they filed an FIR and then in a status report soon after they arrested Kumar — while accusing the students of anti-national activities. Police had filed an FIR on the basis of a video supposedly of the event that it acquired from a news channel, although Police Commissioner BS Bassi said on Monday that police was trying to verify its authenticity.
Five JNU students — among them Umar Khalid — came back to the JNU campus on Sunday after evading arrested for more than 10 days, but police have yet to arrest them.
Senior officers of police claim they are waiting for the five to turn themselves in, but the five have said they would not do so.
The students were charged with sedition for organising an event to protest the execution of Parliament attack convict Afzal Guru on February 9 — Guru's third death anniversary.
Kumar, president of JNU students' Union — a left-wing students' outfit —was arrested for sedition on February 9. — Agencies
Top News
Police say the deceased — believed to be two families of Ind...
Jail officials say the formalities of the release are being ...
Karan says happy to see father coming out of jail, last 10 m...
Internet connection remains suspended even as the prohibitor...
Will also take part in the ongoing Combined Commanders' Conf...