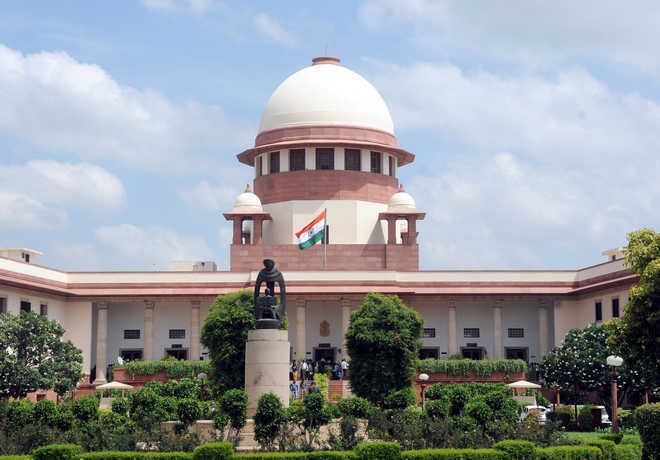 Tribune News Service
New Delhi, April 4
The Supreme Court on Thursday said no one wanted a system of opaqueness but the judiciary can't be destroyed in the name of transparency.
"Nobody is for a system of opaqueness. Nobody wants to remain in the state of darkness or keep anybody in the state of darkness. The question is drawing a line. In the name of transparency, you can't destroy the institution," a five-judge Constitution Bench said while hearing the issue of applicability of RTI Act in the judiciary.
The Bench – which also includes Justice NV Ramana, Justice DY Chandrachud, Justice Deepak Gupta and Justice Sanjiv Khanna—is hearing appeals filed by Supreme Court Secretary General against various orders passed by CIC and high courts on the applicability of the RTI Act to the judiciary. All these orders of CIC/high courts were stayed by the Supreme Court and the issues were referred to a Constitution Bench.
The Bench reserved its verdict after hearing arguments from Attorney General KK Venugopal – representing the top court and advocate Prashant Bhushan for petitioners.
Bhushan, representing RTI activist Subhash Chandra Agrawal, termed as "unfortunate" and "disturbing" the reluctance on the part of judiciary to share information under RTI Act.
"Do judges inhabit different universe," Bhushan asked and went on the emphasise that the top court always stood for transparency in functioning of other organs of the State but it developed cold feet in its own case.
He said the Supreme Court should not have been judging its own cause but it was hearing these appeals due to "doctrine of necessity".
On Wednesday, Venugopal had said if Collegium was brought under RTI Act, senior judges who were part of it will not be able to function independently and have free discussion about candidates in the zone of consideration for elevation.
"If information concerning Collegium functioning is put in public domain, great damage will be done to the institution," Venugopal, who is representing the Supreme Court Secretary General, had told the Bench.
On Thursday, Bhushan attempted to counter Venugopal's submissions. "This is not the independence from accountability. Independence of judiciary means it has to be independent from the executive and not independent from common public. People are entitled to know as to what public authorities are doing," Bhushan argued.
He said RTI Act also dealt with exemptions and information which can't be shared, but public interest should always "outweigh" personal interests if the person concerned was holding or about to hold a public office.
The deliberations of Collegium in appointing and overlooking judges or lawyers should be made public and information can be parted with under RTI on case-to-case basis keeping in mind the larger public interest, he said.
The Bench replied: "Of late, we are experiencing good people, who have opted to become judges, withdrawing their consent. On interaction, the reason appears to be the possibility of the negative observations, whether rightly or wrongly, being brought into the public domain." In such a case, besides losing judgeship, reputation, professional life and family life of the person are all adversely affected, it said.
The Attorney General, too, had on Wednesday said: "File noting by Collegium in this regard could have adverse information against a judge, its disclosure will hurt the person who is overlooked. Such disclosures will result in him being humiliated. His family will stand ostracised; worst of all his independence will be affected. His entire career will be ruined as public and lawyers will lose confidence in him."