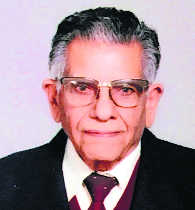 Shanti Bhushan
Justice HN Seth, an eminent jurist and former Chief Justice of the Punjab and Haryana High Court, passed away on Saturday morning following a massive heart attack. He had turned 92 this month.
A month older to me, we had joined Annie Besant School in 1929 when four years old and even completed our law together in 1947.
Justice Seth went on to become the Chief Justice (of the High Court), a post he served with great distinction. He presided over the Full Bench of five judges in the first prominent case under the Anti-Defection Law and wrote majority opinion of three judges. I got the opportunity to appear in the case for four weeks at a stretch.
Extremely courteous and soft-spoken, Justice Seth was a judge in the classical mould and had good knowledge of all laws, be it civil, criminal or constitutional. He got the opportunity to work as the standing counsel for the Centre and state governments at a young age.
Justice Seth's father Justice SN Seth, had been a very able judge too. He and my father-in-law CB Agarwal, who led the civil Bar at the Allahabad High Court for several years, were appointed judges together in May 1948.
Justice SN Seth was not only a judge of great competence, but also extremely hard working. When the Constitution came into force on January 26, 1950, and the writ jurisdiction was introduced, Justice SN Seth was the judge who admitted the first writ petition in the Allahabad High Court. I had the privilege of filing and arguing it.
Unfortunately, Justice SN Seth died very young. On January 26, 1951, when the country was celebrating its first anniversary of the establishment of the Indian Republic and a cricket match was being played between the Bench and the Bar on the High Court grounds, news came that Justice SN Seth had died of a massive heart attack. The match was abandoned and from next year, it came to be known 'Justice Seth Memorial Match'.
Hirdey Nath Seth, with only two-and-a-half years' practice then, was already making a mark and had been noticed by Chief Justice B Malik, who got him appointed to the post of Assistant Government Advocate. This is how he began to represent the governments in their civil, criminal and constitutional cases, which laid the foundation for making him a great judge.
After his distinguished tenure as Chief Justice, all were sure of his elevation to the Supreme Court. In fact, his consent for it had also been obtained by the Chief Justice of India. What happened thereafter is still a mystery.
While his death is a great loss for the legal fraternity, it is an irreparable loss for me personally. One by one, all my close friends from the Allahabad Bar have dropped away, the last of them being Hirdey Nath Seth. I am haunted by the poignancy of the song "Bichharde Sabhi Bari Bari" in Guru Dutt's film "Kaagaz ke Phool" .
But the grief of Padma Seth, his constant companion for 69 years, too, is inconsolable. The only thought that can somewhat console is "Let us not mourn the loss of the flame. Let us celebrate how brightly it burnt."
The writer is senior Supreme Court lawyer