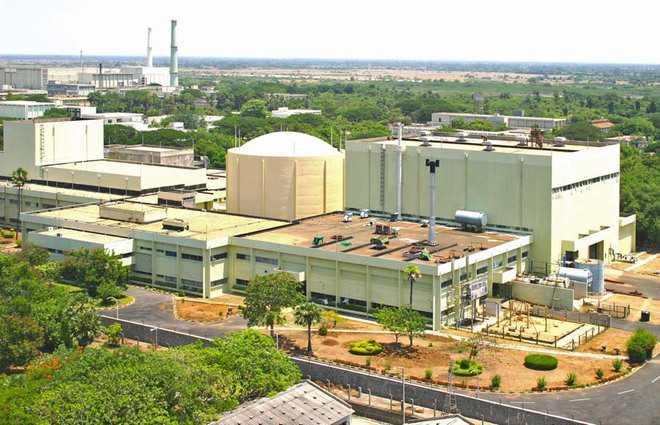 Yekateringburg (Russia), July 2
Hidden from public, on the shores of the Bay of Bengal at Kalpakkam near Chennai, Indian nuclear scientists are in the final throes of starting a high-tech giant stove more than 15 years in the making.
This novel nuclear reactor is a kind of an 'akshaya patra', the mythical goblet with a never-ending supply of food. The Department of Atomic Energy is getting ready to commission its ultra-modern indigenously designed fast breeder reactor.
(Follow The Tribune on Facebook; and Twitter @thetribunechd)
Yukiya Amano, Director General of International Atomic Energy Agency (IAEA), Vienna, says "fast reactors can help extract up to 70 per cent more energy than traditional reactors and are safer than traditional reactors while reducing long lived radioactive waste by several fold".
Easier said than done, since these reactors are also notoriously unstable and hence difficult to run reliably over long periods. Called a 'Fast Breeder Reactor', these nuclear reactors can generate more atomic fuel than they consume.
India has been running an experimental facility called a Fast Breeder Test Reactor now for 27 years. This is a small nuclear reactor a forerunner for the monster that India has constructed at Kalpakkam called the Prototype Fast Breeder Reactor. This will generate electricity commercially using the fast breeder route.
The world's only commercially operating fast breeder reactor is situated in the Ural Mountains of Russia at the Beloyarsk Nuclear Power Plant.
All eyes are now on southern India where another global nuclear milestone is likely to be crossed this year.
Arun Kumar Bhaduri, Director of Indira Gandhi Centre for Atomic Research, Kalpakkam says, "fast breeder reactors are far safer than the current nuclear plants and that all efforts are being made to kickstart within this year India's first commercial fast breeder reactor at Kalpakkam."
Such is the interest in fast breeder reactors that more than 700 of the best atomic scientists from over 30 countries gathered at Yekateringburg in IAEA's conference on the 'next generation nuclear systems for sustainable development'.
Many countries have dabbled with fast breeder reactors and have given up, first off the block was the US but it gave up since inherently American governments have an allergic response with re-processing of nuclear waste in addition since USA has enough supplies of fissile material there is no hunger to maximally extract energy from uranium.
Japan and France had robust programmes with fast breeder technology but repeated failure to safely handle liquid sodium forced them to give up on fast reactors. China is more than a decade behind India in trying to master this beast. — PTI
Top News
The state govt has reserved a sum of Rs 1,800 crore for givi...
Thanks Prime Minister Narendra Modi and Union Home Minister ...
Exchequer to save Rs 19.53 cr annually
It was blocked between Mandi and Kullu districts on Thursday...