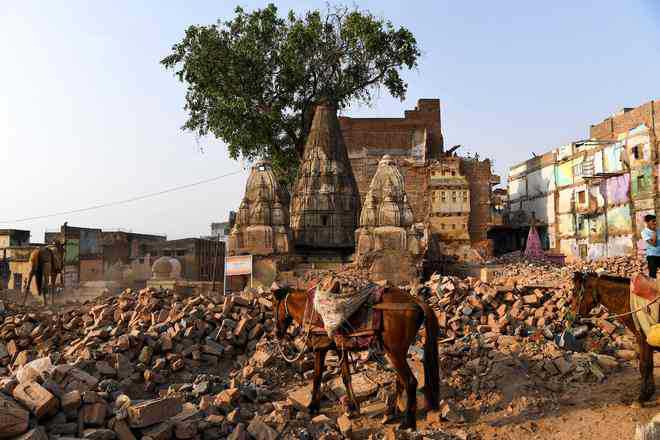 Vibha Sharma
Tribune News Service
Varanasi, May 18
Among the changes that Varanasi, Prime Minister Narendra Modi's constituency which polls tomorrow, has seen in the past five years include those around the famous Lord Shiva temple — Kashi Vishwanath, one of the 12 'Jyotirlingas'.
A Kashi-Vishwanath temple corridor is being built to join the temple — earlier hidden behind a maze of narrow congested lanes — to the Ahilyabai Ghat on the Ganga.
For it, several houses and shops were acquired and razed in the past few months. Some 100 other houses were acquired, but have not yet been demolished.
Many consider the multi-crore dream project of Prime Minister Modi as "a good and brave step" that will give easy access to devotees visiting the important Hindu shrine. But for those who were forced to abandon their homes and shops, it is a different story all together.
As per local BJP leaders, "owners have been given four times the actual compensation and also alternative sites. No one should really be complaining because it is for the general good".
But a civil society group, Sanjha Sanskriti Manch, said the city administration neither has a blueprint, nor did it respond to its request of sharing the plan. "We sought information under RTI, but got no response. Even the circle rates were revised to pay compensation," Vallabacharya Panday of the manch told The Tribune. He said dwellers of some 300 houses sheltering five to six families for generations have been relocated.
The demolition of these houses has also revealed several ancient temples which, according to the authorities, had all been encroached upon by residents and which would be thrown open to the public.
But the clearance of the area has also revealed the Gyanvapi Mosque complex, a centuries-old structure, to the gaze of Hindu devotees. It is now giving rise to apprehensions among the minority community that it could be the beginning of "Babri Masjid 2.0".
If you stand at the cleared area facing the temple and the mosque, it is easy to hear similar conversations among the devotees any number of times. "See that. It is a mosque. It was built after razing the real temple with the 'Jyotirlinga'. The 'Jyotirlinga' is still inside the mosque."
All this has got the minority community worried. To add to it, the slogan 'Ayodhya to ek jhanki hai, Kashi, Mathura baaki hai' is alive in the memory of the older generation to pass on to the new generation. Members of the Muslim community also recall how the area surrounding the Babri Masjid in Ayodhya was cleared by the then BJP government led by Kalyan Singh for the "beautification" of Ayodhya.
Officials and local BJP leaders try to negate the fears. "No harm will come to it. The times have changed. Besides, what has happened since the demolition of the Babri masjid? Under PM Narendra Modi, no harm can happen to the mosque," they say in response to parallels with the 1992 Ayodhya incident.
History of the shrine
Varanasi has seen destruction of temples. According to records, the Kashi Vishwanath temple was founded in 1490
The temple was destroyed and re-constructed several times in history. The last structure was demolished by Mughal Emperor Aurangzeb, who then constructed the Gyanvapi Mosque at the site. The present temple was built on an adjacent site by Maratha ruler Ahilyabai Holkar of Indore in 1780
Kashi Vishwanath is also known as the Golden Temple dedicated to Lord Shiva. The gold used to cover two domes of the temple was donated by Punjab ruler Maharaja Ranjit Singh