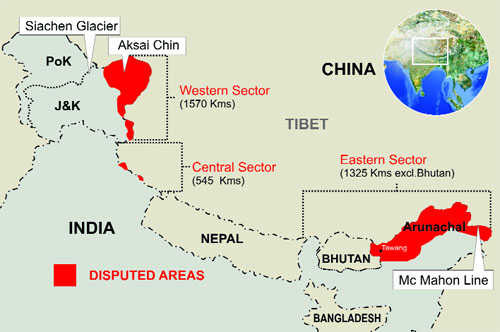 Beijing, October 24
China on Monday warned to US against interfering in the Sino-India border dispute as it objected to US envoy's visit to the "disputed" state of Arunachal Pradesh.
In a statement issued during press briefing on Sunday, Chinese Foreign Ministry spokesman Lu Kang said that the visit would complicate the dispute and "disturb" peace.
US envoy to India Richard Verma visited Tawang — an area that China claims as its own — on October 22 for the Tawang Festival after he was invited by Arunachal Pradesh Chief Minister Pema Khandu.
"We have also noted that the place visited by senior US diplomatic official is a disputed region between China and India. We are firmly opposed to his visit," he said.
China claims Arunachal Pradesh as part of southern Tibet and routinely protests visits by Indian leaders, foreign officials and the Dalai Lama to the area. India, on the other hand, contests Beijing's occupation of Aksai Chin, a territory the Chinese occupied forcibly in the Sino-Indian war of 1962.
Both sides held the 19th round of Special Representatives' talks to resolve the disputes over the 3,488-km Line of Actual Control (LAC).
"China's position on eastern section of the China-India boundary is very clear and consistent. The two countries are now trying to resolve territorial disputes through negotiations and consultations," he said referring to the Special Representatives mechanism headed by National Security Advisors of both countries to find a solution.
"Any third party with a sense of responsibility should respect efforts made by China and India for peace reconciliation and tranquility rather than the opposite," he said.
China said US interference would reverse the progress that talks between India and China has made.
"We urge the US to stop its interference in the boundary issue between China and India and make more contribution to regional peace and stability," he said.
"We believe India and China as two major countries have enough wisdom to properly to deal with this issue and safeguard the fundamental interest of the two peoples," Lu said.
India brushed away the protest saying Arunachal Pradesh was part of India.
"The US Ambassador visited Arunachal Pradesh, a state which is an integral part of the country to which he is accredited," External Affairs Ministry spokesperson Vikas Swarup told the media.
Beijing said visits like that of Verma would make the border dispute between India and China more "complicated" and "sabotage" peace in the region.
"There is nothing unusual in (Verma's visit)," Swarup said. — Agencies
Top News
The voting in the five states was held between November 7 an...
Defence acquisition projects include procurement of 97 Tejas...
India has constituted a probe team to investigate allegation...
Nikhil Gupta, 52, has been charged with murder-for-hire in c...
GDP expanded by 6.2 per cent in July-September quarter of 20...