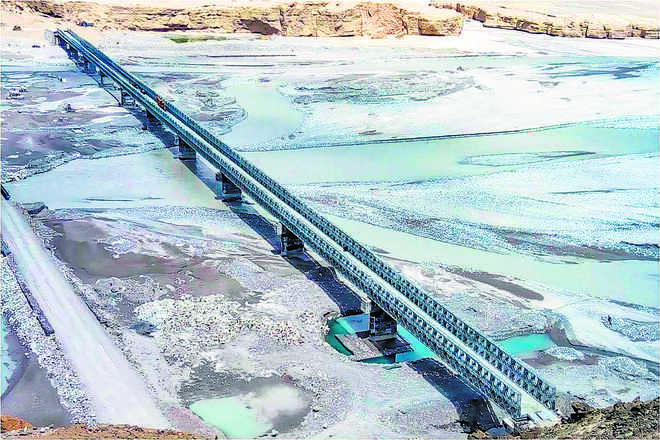 Ajay Banerjee
Tribune News Service
New Delhi, October 21
In what may change the military dynamics in north-eastern Ladakh, specifically Depsang Plains, a major bridge allowing movement of tanks was opened today.
A 'class 70' bridge, which can withstand up to 70 tonne weight, was inaugurated across the Shyok river by Defence Minister Rajnath Singh. "Border area development is an integral part of our government's plan and this bridge is a part of that strategy," said Singh.
The 'Colonel Chewang Rinchen Setu', built by the Border Roads Organisation, connects Durbuk and Daulat Beg Oldie (DBO), a 16,000-foot-high plateau 20 km short of the 18,726-foot-high Karakoram Pass that divides Ladakh and Xinjiang of China.
Over the past few years, India has added tanks to the long-stationed mechanised columns in eastern Ladakh, but due to lack of proper bridging, tanks had not moved to north-eastern Ladakh.