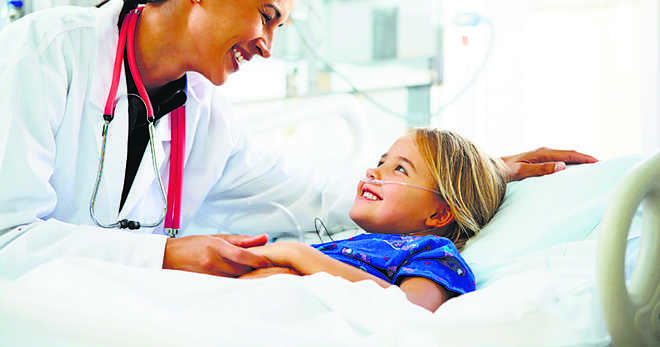 Aditi Tandon
Tribune News Service
New Delhi, September 9
Major crisis is brewing in the Indian medical sector with no takers for key super specialty courses across the country — an alarming trend that has forced the government to slash eligibility cut-offs in a drastic move to fill vacancies.
Out of 3,833 super specialty seats available in medical universities across India, as many as 691 are lying vacant after the first round of counselling under the National Eligibility-cum-Entrance Test (Super Specialty) stream concluded recently. This comes to one in every five super specialty seats going vacant.
The acutest crisis has hit the medical super specialties of cardio thoracic and vascular surgery (CTVS), cardiology and paediatric surgery where the vacancy rates are as high as 70 per cent, 28 per cent and 68 per cent, respectively, mirroring a trend that the government is finding hard to fathom considering 10,037 candidates qualified NEET super specialty for admissions to academic year 2019-2020 this year. Data shows candidates who are eligible to get super specialty seats across India are not opting for any, for some reason.
Seven in every 10 cardio thoracic surgery seats (130 out of 185) have gone vacant after the first counselling under NEET super specialty for 2019-2020 session. Out of 162 paediatric surgery super-specialty seats across Indian institutions, as many as 111 are vacant as of now. There are around 30 medical super specialities.
The results have forced the government to approve the Medical Council of India Board of Governors' proposal to reduce eligibility percentiles to fill the seats.
The decision is that in the super specialties of CTVS, cardiology and paediatric surgery the percentile for eligibility will be brought down to 20 from the current 50 and for the remaining super specialty courses, the percentile for eligibility will be slashed to 40 from the existing 50.
VK Paul, Chairman of MCI BOG, said, "India cannot afford to let super specialty seats go vacant. Our decision to lower the percentiles while ensuring a fundamental merit will hopefully lead to all vacancies being filled. We have not compromised on merit. We have considered the absolute marks of candidates while reducing the cut-offs." Students who take part in the second round of NEET-super specialty counselling will get the benefit of these reduced cut-offs.
The MCI BOG has also launched an investigation into why doctors are not interested in post doctorate courses in cardio thoracic surgery, cardiology and paediatric surgery that are critical to the country's future, but are happy to opt for super specialties like gastroenterology, endocrinology, radiology and surgical oncology where nearly all seats have been taken up this year.
"One reason can be that cardiology, paediatric surgery and cardio thoracic streams are physically more demanding and taxing than some other streams. If this is why MD and MS candidates are rejecting these super specialty courses, it is a serious development," said a government source.
Top News
17-day rescue operation involved over 200 experts from vario...
Families of workers, most of whom are from Jharkhand and Utt...
The prime minister said the multi-agency rescue exercise has...
National Green Tribunal in 2014 imposed a ban on coal mining...
41 workers were trapped in under-construction tunnel on Diwa...