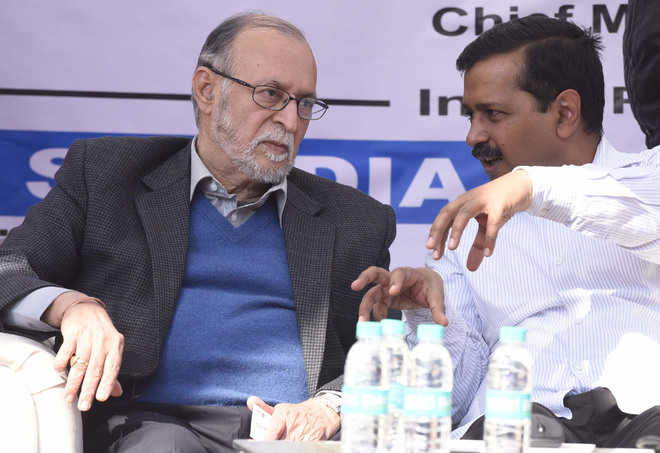 Syed Ali Ahmed
Disagreements between Lieutenant-Governor of Delhi Anil Baijal and Chief Minister Arvind Kejriwal-led AAP government are said to be leading to delays in development works in the national capital, amid charges by AAP that city bureaucrats prefer to listen to Raj Nivas rather than the Delhi Government.
The L-G office and the AAP government continue to trade charge in regard to projects running behind schedule and delays in clearing files pertaining to these. The L-G office admits that it received approximately 1,000 files of the projects seeking approval, including those of reserved subjects. Of these, 97 per cent of the proposals were concurred to without any change, the office said.
A senior official of government said proposals, including health insurance scheme, higher education loan schemes and mohalla clinics, remain pending in the L-G's office for months as are those relating to mid-day meal proposal, door step delivery of ration, Lokpal Billl and education.
These are schemes the AAP government of Chief Minister Kejriwal wants to roll out as part of its promise to denizens of Delhi. Similarly, proposal for in-principle approval for a licence and allotment four acres of land to NGO Akshay Patra Foundation to run the mid-day meal scheme remains to be cleared.
The AAP government's grand plans of providing WiFi across Delhi remain unfulfilled even after three years in office. As per the project, the city government was to create 1,000 hotspots across the national capital and Rs 100 crore was allocated for the project.
The internal tussle led to the files beings tossed from the IT Department to the Public Works Department and to the Dialogue and Development Commission, and gave Leader of the Opposition in Assembly Vijender Gupta the opportunity to take pot shots that the Kejriwal government had failed to complete even a single project.
Vertical greening
Delhi Minister of Environment Imran Hussain has written to the Public Works Department, mayors of North Delhi, South Delhi and East Delhi Municipal Corporations, Delhi Development Authority, Delhi Metro Rail Corporation, New Delhi Municipal Council, Delhi Cantonment Board to undertake vertical greening activities on buildings, flyovers, including spaces underneath flyovers, to enhance green cover.
This is being done to neutralise air pollution. Following the Delhi High Court order banning the use of plastic bags and other such material, the Delhi government has also ordered all schools to ban plastic covers.
Burning issue
Twenty eight persons have so far lost their lives in fire in the national capital in 2018. Chief Fire Officer of the Delhi Fire Service Atul Garg said there were many reasons for such incidents occurring at factories.
People in industrial and factory areas do not take care of building bylaws and fire safety norms. Sometimes, factory owners close the gate from inside with a fear that the labour will leave their jobs in between.