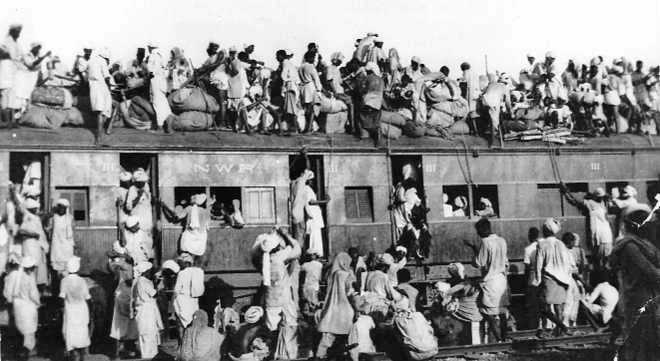 Tribune News Service
Chandigarh, August 6
Interviews of over 4,300 Partition witnesses are set for public release in collaboration with a consortium of research universities. Part of The 1947 Partition Archive's collection, the stories have been collected from across the world over the last seven years.
A portion of the complete oral history interviews will be released beginning August 10 and become available via live streaming from Stanford University Library's Digital repository, accessible to anyone with an internet collection. The remaining collection, deemed too delicate or sensitive for open accessibility, will be available to researchers and interested parties by visiting select university libraries in the collaboration, including Ashoka University, University of Delhi and Guru Nanak Dev University in India, along with Lahore University of Management Sciences and Habib University in Pakistan. Talks are under way with universities in the UK and Bangladesh.
(Follow The Tribune on Facebook; and Twitter @thetribunechd)
Guneeta Singh Bhalla, who began the project of collecting stories of Partition, says the content in the collection could challenge our current understanding of South Asian history and identity.
Stanford University Library's Digital Repository and discovery environment includes a strong video preservation program that will ensure access to the interviews in perpetuity. "The videos being gathered by The 1947 Partition Archive are tremendously important to capture and preserve as part of the historical record, and to make readily available for deeper discovery and research," said Michael Keller, Stanford's university librarian. The material, according to Keller, are of particular interest to Stanford given research efforts underway on campus at the Center for South Asia and the Handa Center for Human Rights and International Justice.
A pilot adoption of the collection into three Indian university libraries, including Guru Nanak Dev University in Amritsar, Ashoka University in Sonepat and University of Delhi, is being supported by Tata Trusts. "The Arts & Culture portfolio at the Tata Trusts has worked with preserving archives, through digitization, paper conservation and dissemination. The 1947 Partition Archives of oral histories is of particular interest, in this 70th year of India's Independence, as time erases direct testimonies, so vital in first hand authenticity," notes Deepika Sorabjee, Head, Arts & Culture, Tata Trusts.
Noted historian Priya Satia at Stanford University says the collection opens a window not only on Partition itself but onto historical anthropology of culture, pre-Partition culture, and about post-Partition politics, and identity. "The research it will allow on Partition itself is momentous—finally we have an opportunity to get away from high-political narrative of why and how it happened. Finally, we can get a sense of what happened on the ground, how it affected people and how those effects changed over time," she says.
How big archive is
Has over 4,300 oral history interviews and over 30,000 digital documents and photographs collected from 12 countries in 22 languages
Probably is the largest oral history archive on any topic in South Asia, and amongst one of the largest video-based oral history archives in the world
End goal is to record at least 10,000 oral history interviews from surviving witnesses
Top News
Harried passengers take to social media to vent their ire at...
Lapid had stirred a massive controversy by terming Vivek Agn...
Final turnout to be higher as voting process continued at po...
DigiYatra will provide seamless entry and embarkation proces...
His song 'Mahakaal' removed from YouTube after 19 hours