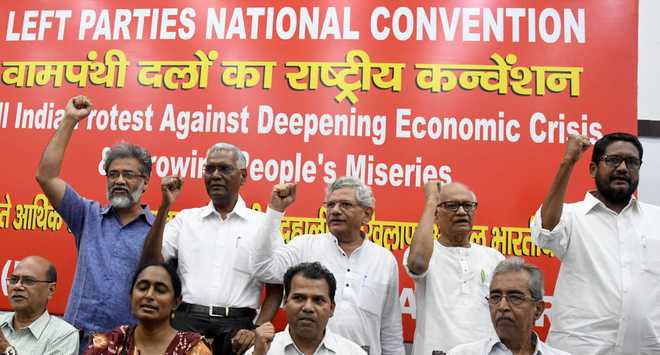 Ravi S.Singh
Tribune News Service
New Delhi, September 20
A national convention addressed here by heads of five left parties including Sitaram Yechury of CPI(M) and D Raja of CPI on Friday as a mark of protest against Union government's economic policy resulting in slow-down gave a joint call for a week-long nation-wide agitation from October 10.
A resolution adopted by it asked the government to spend the Rs 1.76 lakh crore it took from RBI reserve on public investment programmes to generate jobs and domestic demand.
"Instead the Modi government seeks to meet the revenue deficit of Rs 1,70,000 crore incurred last year due to demonetization and GST," the resolution added.
Also, it urged the government to provide one-time loan waiver to the farmers to meet agrarian distress.
Besides the CPI(M) and the CPI, the RSP, the CPI (ML), and All India Forward Block were others who organised the event.
Addressing the convention, Yechury said the unemployment rate under current government was the lowest in the last 50 years.
"The economic mess is the result of warped polices of the government. All sectors of economy are reeling under distress," Yechury said, and accused the government of trying to divert public attention from the genuine problems through its "shenanigans" on Jammu and Kashmir, NRC and divisive issues.
"Even after 45 days of abrogation of Article 370 Kashmir faces a lockdown," Yechury added.
D Raja said that the present economic melt-down started with demonetisatoin. He alleged that the public section units that have traditionally be pillar of fundamentals of country's economy, are being privatised. He also criticised bank mergers that the central government announced as an attempt to tackle the rising NPA problems.