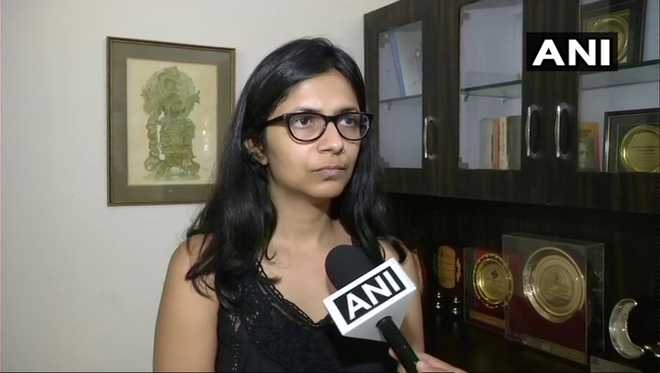 Ananya Panda
Tribune News Service
New Delhi, July 24
Calling prostitution as the "worst form of slavery", Delhi Commission for Women (DCW) Chairperson Swati Maliwal on Tuesday came down heavily on pro-sex work groups and said legalising sex trade would only promote trafficking going by the experiences of other countries where such a move has led to an "increase" in exploitation and trafficking of women and children.
The remarks assume significance coming in the backdrop of a proposed anti-human trafficking Bill, tabled last week in the Monsoon Session of Parliament, despite the opposition by a section of legal activists and sex workers who want "consenting adult sex workers to be kept outside its ambit" saying the Bill is an attempt to criminalise sex work.
Maliwal also criticised their supporters and advocacy groups rallying for legalising sex industry asking if they would allow their daughters, sisters or wives to get into the business.
"I am strongly against legalisation of prostitution… Prostitution is the worst form of slavery and it will only promote trafficking. See worldwide wherever prostitution has been legalised there has been an increase in exploitation and trafficking," the DCW chief said adding that only poor women would be pushed into it if it gets legalised.
Referring to the red light area of the national capital, Maliwal said the life on GB Road is against civilisation as women there are often subjected to unimaginable level of sexual torture and how attempts to rescue trafficked victims by the DCW and some NGOs over the last three years have been foiled due to the alleged "connivance" of the Delhi Police.
"Brothels could not thrive barely 200 metres away from the local police station without the collusion of the police," the DCW chairperson added while questioning the "inaction" by the MP concerned on the matter.
Prostitution is not limited to GB Road, she pointed out adding that the commission which is getting complaints about sex rackets operating from spa centres in the capital, is trying to work closely with the police to tighten the noose around such centres.
Maliwal also demanded a strong law against politicians and celebrities who are known for making misogynistic statements that encourages rapes and supports a culture of violence in the country.
She also backed the recent law banning surrogacy in the country.
Nirbhaya Fund remains unutilised
DCW head Swati Maliwal was critical of how the Centre has failed to disburse the Nirbhaya Fund to states meant for installing CCTV cameras in police stations and buses, providing compensation and rehabilitating rape and trafficking survivors and setting up shelter homes, among others despite her several requests to PM Narendra Modi.
DCW chief lauds successes, spells way forward
Presenting the commission's work and initiatives of the last three years, the DCW chief lauded the successes in major legislation changes, including a recent ordinance prescribing death penalty to rapists of children below 12 years and mobilising people that paved in for reduction of age of juvenile in conflict with law to 16 under the Juvenile Justice Act, 2015.
Fighting prostitution, drug and liquor mafia and ensuring strict implementation of the amended criminal law awarding death penalty to rapists of children are going to be the top three focus areas, said Maliwal, during her second term as DCW chairperson starting this week.
"One major achievement of the commission is women now repose faith in DCW whose efforts have contributed to major changes in country's laws," Maliwal underlined.
When asked about the DCW's work in gender sensitisation, Maliwal said she has been in talks with the education department to ensure that gender sensitisation exercises are not limited to good or bad touch and curriculum in schools are made gender sensitive.
Going by the DCW's data, it has dealt with 52,473 complaints in the last three years under Maliwal's tenure that is an increase of over 700 per cent against work done by the commission under the previous chairperson in eight years.
Top News
Registers prelim enquiry; AAP accuses BJP of vendetta
Says he will forever be a symbol of India's relentless fight...