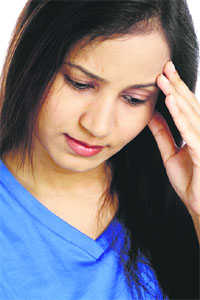 Vibha Sharma
Tribune News Service
New Delhi, June 14
Open defecation is not just an attack on her dignity, it is also among three three key socio-demographic factors for anaemia in a pregnant woman.
Findings of this new study by researchers at International Food Policy Research Institute (IFPRI) will be heartening for the government, leading the Swachh Bharat Mission.
According to the study, reduction of open-defecation in villages, increased age at pregnancy and education are three key socio-demographic factors in reducing anaemia among pregnant women in India.
Its findings suggest India's efforts to focus on making entire villages open defecation-free and the promotion of diets rich in iron could have large benefits.
When combined with good diet, these social changes may have long-lasting impacts that could substantially reduce the burden of anaemia among Indian women, it says.
"Women of reproductive age experience a disproportionately large burden of anaemia due to menstrual blood losses as well as higher nutrient requirements and increased blood volume during pregnancy," says Samuel Scott, lead researcher, IFPRI-South Asia Region.
"Multi-sectoral public health policies and programmes that simultaneously target basic (eg early marriage), underlying (eg open defecation) and immediate (eg women's education and diet) factors are likely to have the greatest impact on anaemia reduction among pregnant women."
Co-authored by IFPRI's Samuel Scott and Suman Chakrabarti, and colleagues from Oxford Policy Management and Public Health Foundation of India, the study explores how shifts in socio-demographic, programmatic and dietary factors impact the prevalence of anaemia among pregnant women in India.
The study, recently published in the journal, Public Health Nutrition, was an analysis of 446 Indian districts and more than 17,000 pregnant women aged 15-49.
"Anaemia among pregnant women is of concern, as it increases the likelihood of maternal mortality, risk of infection, preterm delivery, and poor foetal and infant health," added Scott. "Quality of life in anaemic women is also impacted, with studies showing reduced work capacity as well as poorer physical performance and neuropsychological outcomes."
It observed that an average increase of 2.2 years in age at pregnancy and 22 per cent reduction in village-level open defecation from 2002 to 2012 accounted for an estimated 7 per cent and 9 per cent of the observed anemia decline, respectively.
However, a 6-7 per cent increase in urbanisation over a decade accounted for an estimated 1.7 per cent increase in anaemia.
"It is possible that women who migrate to urban areas experience an increased risk of anaemia due to unsanitary environmental conditions in urban slums and an inadequate consumption of nutrient-rich foods due to food being relatively more expensive in urban areas," Scott explained.
The research, which took into consideration a 10-year period from 2002 to 2012, found anaemia prevalence among pregnant women fell by 16 percentage points.
Socio-demographic factors such as women getting pregnant later, being more educated and attending more antenatal care visits showed improvement.
Open defecation and use of wood as cooking fuel, although still high, also showed a decline during the same period. The study did not find significant changes in household supply of folic acid and vitamin B12, but noted a decline in both iron and phytate supply, partly driven by a reduction in the consumption of rice and wheat.
Top News
Last year, China held a meeting with some South Asian countr...
'15 women members in Constituent Assembly, their contributio...
FIR was filed against four for 'glorifying' gun culture in A...
Polygraph test on Poonawala went on for nearly three hours o...
Delhi court dismisses AAP minister's plea seeking direction ...