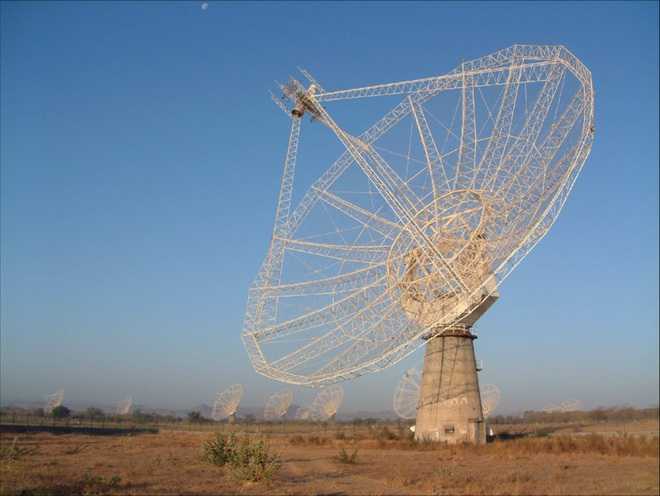 Vijay Mohan
Tribune News Service
Chandigarh, November 3
Indian scientists have achieved a rare feat of measuring the atomic hydrogen content of galaxies in the early stages of the universe, determining in the process that both star-formation efficiency of galaxies and cosmological gas mass density in galaxies appear to have not changed significantly over the past four billion years.
Using the recently upgraded Giant Metrewave Radio Telescope (GMRT) located in Pune, they determined the average atomic gas content, said to be the "fuel" for star evolution, of star-forming galaxies located four billion light years away, when the universe was about two-thirds of its current age.
The study was carried out by scientists at the Indian Institute of Science Education and Research (IISER), Mohali, and National Centre for Radio Astrophysics at Tata Institute of Fundamental Research (TIFR), Pune. Supported by the Department of Science and Technology, the study has been flagged as one of the most interesting recent results to appear in journals published by the American Astronomical Society.
Two main constituents of galaxies are gas and stars and the life cycle of a galaxy is essentially the conversion of gas to stars through gravitational collapse of gas clouds. Understanding how galaxies form and evolve requires measurements of how both their stellar content and their gaseous content evolve with time. Over the past two decades, astronomers have accurately measured the stellar masses and star formation rates of galaxies, but little is known about the evolution of the atomic gas content of galaxies.
Apurba Bera of the TIFR, the lead author of the paper, said: "Most of the atomic gas in galaxies is in the form of hydrogen, which emits a characteristic spectral line at a particular radio wavelength. Unfortunately, this hydrogen emission is weak, and even powerful radio telescopes do not have sufficient sensitivity to detect the emission from very distant galaxies. However, the unique capabilities of the upgraded GMRT allowed us to add the hydrogen emission signals from a large number of galaxies in the field of view of the telescope, so as to measure their average gas content."
"The measurement critically requires simultaneous observations of a large number of galaxies. The large bandwidth of the GMRT and its upgrade digital systems allowed us to cover more than 400 galaxies simultaneously," Jayaram Chengalur, a professor at TIFR and a co-author of the paper, added.
Top News
Xiaomi accused of 'unauthorised' remittance of this amount i...
Sane also allegedly told interrogators that he was HIV-posit...
Many local villagers were engaged in illegal mining when the...
A DIG-rank officer to probe six Manipur violence cases refer...
Sports Minister Anurag Thakur had assured protesting wrestle...