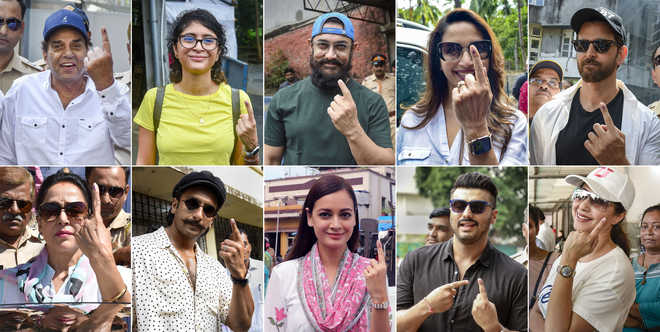 Shiv Kumar
Tribune News Service
Mumbai, October 21
According to the Election Commission, voter turnout was barely 44 per cent in the island city, while it touched nearly 46 per cent in Mumbai's suburbs. In more up market localities, polling stations wore a deserted look as voters played hooky.
Across Maharashtra however voter turnout touched 55 per cent by 5 pm but was estimated at around 63 percent by evening as long queues were reported from rural areas, according to EC officials.
Officials said the voter turnout was higher in rural areas than in the urban centres.
Polling began at 7 am and ended at 6 pm and was marred by glitches in the Electronic Voting Machines at several places.
Celebrities and politicians alike came out to vote early in the day. Chief Minister Devendra Fadnavis, former President of India Pratibha Patil, NCP chief Sharad Pawar, Shiv Sena chief Uddhav Thackeray,
former cricketer Sachin Tendulkar, MNS chief Raj Thackeray, RSS chief Mohan Bhagwat were among those who voted early.
Among celebrities Shah Rukh Khan, Salman Khan, Aamir Khan, Kareena Kapoor Khan, Deepika Padukone, Madhuri Dixit and industrialists like Ajay Piramal were among those came out to vote in the morning.
According to the Election Commission, 102-year old Ibrahim Alim Joad from Pune voted immediately after leaving the hospital. His family said Joad has been voting since India's independence and ever missed a chance to cast his franchise.
At least two voters are reported to have died of various causes in different parts of Maharashtra. One school teacher on election duty at Gadchiroli succumbed to a heart-attack, state police said.