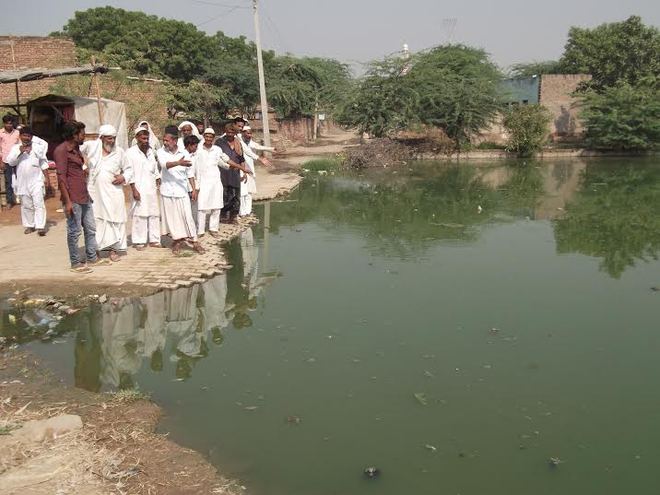 Ravinder Saini
Tribune News Service
Mewat, September 15
Efforts being made by the local health authorities notwithstanding, Mewat district remains infested with malaria-causing mosquitoes. In all, 1,448 cases of the vector-borne disease have been reported in the district this season so far. The number is around four times more than the last year's figure.
Malaria outbreak has claimed 17 lives in rural areas of the district, exposing ill-preparedness of the authorities to tackle the situation. The authorities have, however, confirmed only one death due to malaria so far.
Punhana and Nuh areas are the worst-affected. Around 1,430 confirmed cases of malaria have been reported there. The number of malaria patients stood at 1,131 in Punhana, 299 in Nuh and 18 in the Firozpur Jhirkha area.
As per the health authorities' record, four persons each in Hathan and Naheda, three each in Budoli and Malhaka, two in Sudaka and one in Jarokdi village have died due to fever so far. Sources, however, say the actual number of deaths is much more than that.
"More than 10 villagers have died after remaining in the grip of fever for some days at a stretch. A health team visits the village daily. Besides distributing anti-malaria tablets, team members also collect blood samples of suspected patients. Those in critical condition are sent to the Community Health Centre, Punhana, but the centre does not have any special arrangement to treat such patients," said Shabbir Ahmed of Hathan village.
Mohammad Hanif, another villager, said the Health Department's efforts were proving insufficient as at least one person in every house of the village was suffering from fever for the past over a week.
Anti-malaria fumigation was being undertaken to prevent mosquito breeding, he added. "Six deaths have occurred during the past 10 days, while more than 100 villagers are still suffering from fever in Sudaka village. The authorities have failed to initiate measures such as anti-malaria fumigation and cleanliness in the village, leading to spurt in the number of malaria cases," said Liyakat of Sudaka village. Shortage of doctors and supporting staff is also a major reason behind delay in initiating steps to prevent the spread of malaria in these villages.
Fifteen multipurpose health workers (MPHWs), four health inspectors and lab technicians have been called from Rewari and Mahendragarh districts to assist local health teams in dealing with the situation.
Mewat Civil Surgeon Dr BK Rajora said rainwater accumulated in fields of Hathan, Naheda, Budoli and Sudaka villages was a major reason behind the rising numbers of malaria cases.
Top News
A cavalcade of seven security vehicles took Harjit Singh fro...
Mobile internet services in the remaining areas of the state...
2 bearded men wearing a cap poured flammable material at the...
Indian-Americans express outrage at the incidents of vandali...
Pentagon provided real-time intelligence to Indian Army on I...