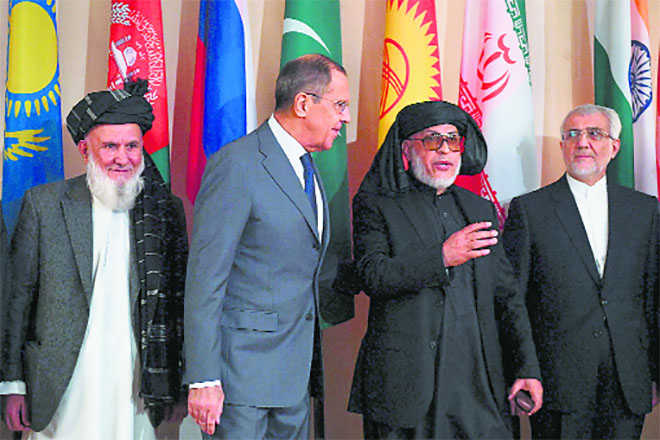 Smita Sharma
Tribune News Service
New Delhi, November 9
Amid reports of a significant shift in stance with India being represented in the same room as the Taliban in Moscow, the Ministry of External Affairs on Friday clarified that no direct conversation between the two sides was part of the agenda.
India was represented at the Moscow Format of talks on Afghanistan at a "non-official level" by former high-ranking diplomats TCA Raghavan and Amar Sinha, who also served as ambassadors to Pakistan and Afghanistan, respectively.
The Indian representatives, however, did not speak at the deliberations, attended by a delegation from the political office of the Taliban in Doha led by its head Stanakzai.
Questions were asked of the government by Opposition leaders, including Omar Abdullah of National Conference, who wrote in response to a tweet, "If 'non-official' participation in a dialogue that includes the Taliban is acceptable to the Modi government, why not a 'non-official' dialogue with non-mainstream stakeholders in J&K? Why not a 'non-official' dialogue centered around J&K's eroded autonomy and its restoration?"
"The process is consistent with our policy of Afghan led, Afghan owned and Afghan controlled and also with participation of the government of Afghanistan.
We will participate in any such process and we made it clear that our participation will be at the non-official level," stressed MEA spokesperson Raveesh Kumar, "Where did we say that there will be talks with the Taliban? We just said we will participate in a meeting on Afghanistan hosted by Russia," he added.
India's longstanding position has been to be a participant in any dialogue on Afghanistan only if the elected government in Kabul is at the table and that there is no distinction between good and bad Taliban. The first edition of the talks hosted by Russia earlier this year did not include the Taliban and was attended by an Afghan government delegation and a Joint Secretary-level diplomat from India, among others. This time, though, there was no government minister or official from Kabul. Rather, there was a four-member delegation of the High Peace Council as a "national but non-government institution participating in its own capacity", according to the Afghan foreign ministry.
A statement from Kabul said that as per its understanding with Russia, it hopes that this meeting leads to "direct talks between the Government of Afghanistan and the Taliban".
The United States had earlier announced boycott of this meeting previously scheduled for September 4 but postponed as the Ashraf Ghani government pulled out of it.
In a changed stance, the United States sent an observer from its embassy in Moscow to the meet attended by Deputy Foreign Ministers and special representatives from 11 countries, including China, Pakistan and Iran. "The main topic of discussion was the question of the speedy launch of a direct inter-Afghan dialogue on peace in order to stabilise the situation in this country," said a Russian government release.