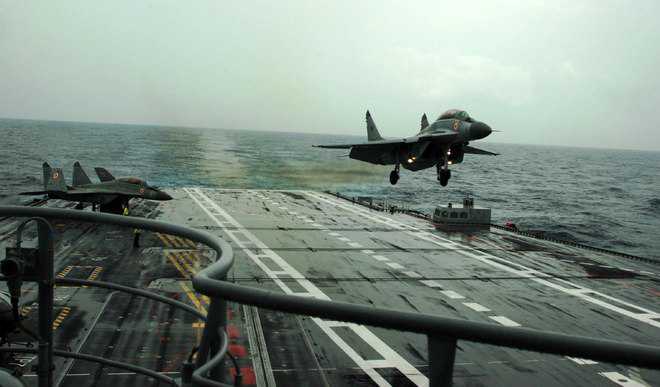 Ajay Banerjee
Tribune News Service
New Delhi, July 26
Pointing at occurrence of mid-air engine failures and defects in the airframe of the naval fighter jet the MiG-29K, the Comptroller and Auditor General (CAG) in its report today questioned the safety and actual availability of the plane.
The twin-engined MiG-29K, imported from Russia, is the primary combat platform on the aircraft carrier INS Vikramaditya and is slated to be on board the under-construction carrier INS Vikrant.
Forty-five aircraft and associated equipment were ordered at a cost of $2.2 billion (nearly 14,000 crore) in two tranches in 2004 and 2010.
The CAG presented its report in both Houses of Parliament today, saying the aircraft was riddled with problems relating to airframe, its engine (RD MK-33) and also the fly-by-wire system. "Aircraft is being technically accepted despite having discrepancies/anomalies," the report said.
Serviceability of MiG29K is low, ranging from 15.93 per cent to 37.63 per cent, and that of MiG-29KUB (the trainer version), ranging from 21.30 per cent to 47.14 per cent. "Serviceability" implies that the aircraft is available and is not undergoing a scheduled repair or overhaul at any level. "It is clear that the serviceability of MiG-29K was unsatisfactory," the report said.
The CAG said the life of the aircraft was 6,000 hours or 25 years (whichever is earlier) and with issues facing the plane, the operational life of the aircraft already delivered would be reduced.
As of September 2014, 65 engines (42 with 21 aircraft and 23 spares) had been accepted, it said. "Since induction in February 2010, 40 engines (62 per cent) had been withdrawn from service/rejected due to design-related defects/deficiencies," the report said.
Defects led to 10 cases of single-engine landings, meaning one of the engines failed mid-air and the pilot landed back on one engine.
The agency also questioned the pace of construction of INS Vikrant saying it was at least five years behind schedule. The target delivery date of the ship is December 2018, but is expected to be in 2023 on realistic terms.