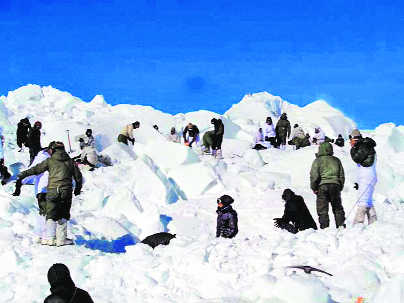 Ajay Banerjee
Tribune News Service
New Delhi, April 22
The Ministry of Defence has okayed a Rs 70-crore project to procure specialised boots, avalanche rescue bags complete with breathing apparatus and specialised summer suits that will lighten the clothing of the troops on the icy Himalayan heights.
The troops will be given a wearable backpack called the "avalanche buoyancy system". These will inflate on impact with snow and prevent injuries, keep the soldier afloat in the snow and even have a breathing apparatus to allow survival.
(Follow The Tribune on Facebook; and Twitter @thetribunechd)
Troops will also get specialised soft shoes with a wider footprint. These will be worn over the regular shoes for greater foothold in loose snow. The third on the list are fully covered tracksuits, called summer suits. These will be used in "super high-altitude areas" where temperatures drop to minus 20°C or so. These will allow troops greater mobility, especially on patrols and rescue missions. The multi-pronged effort has come after the MoD ordered the Chandigarh-based Snow and Avalanche Study Establishment (SASE) to study increased avalanches and new vulnerable spots.
The Army estimates that avalanches have increased by 20-25 per cent as rising winter temperatures prevent ice from freezing hard.
A rise in minimum and maximum temperatures has led to at least three immediate effects: the quantum of snowfall has doubled; winters set in late with maximum snowfall in April; and the rise in minimum temperature does not allow snow to freeze into hard ice. Thus, snow remains moist, resulting in slippery slopes that are avalanche-prone.
The average minimum temperature on Siachen glacier rose from minus 40°C in 2012 to minus 30°C in 2016. Last year, 10 soldiers died in an avalanche at Siachen and this year almost the same number in Kashmir.
---
On acquisition list
Avalanche buoyancy system
Wearable backpacks that inflate on impact with snow and prevent injuries
Specialised soft-shoes
Worn over regular shoes for greater foothold in loose snow
Summer suits
Fully covered tracksuits for "super high-altitude areas" (minus 20°C) so as to allow greater mobility to troops
Top Stories