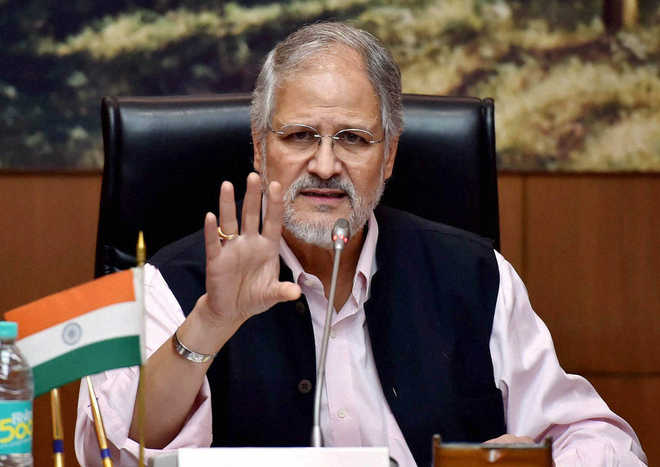 Tribune News Service
New Delhi, December 22
Delhi's Lt-Governor Najeeb Jung, who was locked in a running battle with Chief Minister Arvind Kejriwal, on Thursday resigned and said he will return to academics, "his first love".
(Follow The Tribune on Facebook; and Twitter @thetribunechd)
L-G Najeeb Jung had back-to-back meetings with Home Minister Rajnath Singh and Home Secretary Rajiv Mehrishi in last two days before he tendered resignation today.
Two names — Anil Baijal and GK Pillai — are doing the rounds to replace Jung.
Anil Baijal, a 1969-batch IAS officer, served as home secretary in the Atal Bihari Vajpayee government.
Gopal Krishna Pillai, a 1972-batch IAS officer of the Kerala cadre, also has served as Union home secretary. He had remained principal secretary to the chief minister of Kerala apart from holding diverse positions in the state government.
Mehrishi, while indicating that he was not aware of the development, said Jung met him and discussed some pending issues.
The resignation letter has not reached to the Ministry of Home Affairs so far, a senior official in the ministry claimed.
However, sources said once the letter reaches MHA it will be processed and sent to President Pranab Mukherjee for approval.
Quitting 18 months before the end of his due tenure, Jung (66), in a brief statement, thanked both Prime Minister Narendra Modi as well as CM Arvind Kejriwal for their association with him.
"He thanks the Prime Minister for all help and cooperation he received during his tenure as the Lt. Governor," the statement said.
A former civil servant from the Madhya Pradesh cadre, Jung was appointed 20th Lt-Governor of Delhi on July 9, 2013. Jung became Lt-Governor at a time when a Congress-led coalition was in office.
The then chief minister Sheila Dikshit had played a role in appointing Jung, who was serving as Vice-Chancellor of Jamia Millia Islamia, to the top post in the city administration.
He had run the city for nearly one year after the AAP government had quit on February 14, 2014 after a short stint of 49 days.
The Modi government retained him even as it replaced most Governors in the states.
In the statement, Jung thanked the people of Delhi for their "support and affection", especially during the one-year President's rule in the National Capital.
As per Ajay Chaudhary, OSD to Delhi L-G Najeeb Jung, "The L-G said he wanted to spend time with his family. His resignation is for personal reasons."
Jung-Kejriwal tussle
Jung's tenure was marked by a sharp escalation in tensions between his office, which reported to the Central government, and the AAP government of Kejriwal.
What began as a turf war turned into an often nasty confrontation between Jung and Kejriwal over who is the boss in Delhi, which, although a state, does not enjoy parity with other states.
The Central government, through the Lt-Governor, controls Delhi Police, law and order and issues related to land in the capital.
The recurring Jung-Kejriwal battle was decided in favour of the former on August 4 by the Delhi High Court. The AAP government has moved the Supreme Court, where the matter is yet to be decided.
In an initial reaction, the BJP said Jung's resignation was a shocking development. The Congress said the Centre must explain why Jung was "unceremoniously removed and whether it was done to bring someone to the top administrative post who is ideologically close to the RSS".
BJP leader RPN Singh said, "He did a good job and was performing on ground. He must have thought of something."
Delhi Congress Chief Ajay Maken alleged that Jung was unceremoniously removed and demanded that the Centre make public reasons behind the decision.
"Was he removed to bring someone who is close to RSS? Was it done considering the upcoming municipal polls? Jung is an able administrator," he said.
Congress leader P C Chacko said BJP's attitude towards Governors and L-Gs may be the reason behind Jung's decision.
"BJP never takes independent stand as per as the offices of Governors and LGs are concerned. BJP wants the Governors and LGs to act as per their political thinking. This is putting many Governors and LGs in difficulties. May be this is behind the resignation," he said. — With agencies