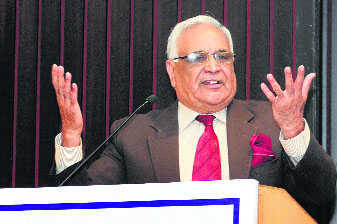 Tribune News Service
New Delhi, March 24
Explaining the need to have a comprehensive national security policy Lt Gen SS Mehta (retd) listed water, energy, food security, access to technology, climate change, education not being linked to employment and gender issues as aspects that could affect national security that is very different from national defence.
Lt Gen Mehta, a former GoC-in-C of the Chandimandir-based Western Command of the Indian Army, was delivering the fourth annual K Subrahmanyam memorial lecture on the theme: "Securing India's insecurity: Emerging vulnerabilities in an interconnected world", this evening.
Subrahmanyam is considered a doyen among Indian strategic thinkers. Former Minister of State in the External Affairs Ministry Shashi Tharoor chaired the talk, while S Jaishankar, Foreign Secretary and son of Subrahmanyam, addressed the audience.
Lt Gen Mehta said it was important to comprehensively reform the country's higher defence management recommended by K Subrahmanyam. "This means not just appointing a single point military adviser to the government (by way of Chief of Combined Defence Services) but also setting up unified theatre commands," he said.
A single point military adviser to the government should be backed by theatre commands. "The theatre commands could be specific to regions such as the Eastern Naval Command or to areas such as the Army's Northern Command in which other service elements must be integrated," he said.
The government has hinted at integration of the three Services and a mechanism for creation of a post of CDS, but Lt Gen Mehta cautioned that this should not end up like the present system of a rotating Chairman of Chiefs of Staff Committee with the bureaucracy as an arbitrator or like the Headquarters of the Integrated Defence Staff (IDS) which is only attached to the Ministry of Defence.
Explaining the concepts of national security and defence, he said, the fast-changing landscape, the rise of new vulnerabilities as well as interconnections, the power shifts all demand a clear comprehension about the two concepts. Comprehensive national security includes political and military, economic security, soft and hard power, focused development and growth of human and material resources along with public understanding and support.
The standard notion of national defence conventionally relates to maintaining sovereignty and territorial integrity; ability to control internal disorder; reacting to man-made and natural calamities; possessing the political competence to weigh options and display the capability to meet international obligations.
To secure the country's future and remove insecurities of every citizen of India, we must continue repudiating some Western constructs such as Samuel Huntington's prognosis about the shift in conflict from nations to cultures. This aspect has also been stressed by the sagacious strategic thinker and Subrahmanyam's illustrious peer Henry Kissinger, a former US Secretary of State.
Lt Gen Mehta pointed that Subrahmanyam was especially critical of successive governments' antipathy to long-term strategic planning and absence of specialised positions and resources. He said we would be perpetuating Subrahmanyam's iconic and tireless lead in making our country safer by a comprehensive and flexible national security outlook reflecting all national security concerns and providing an actionable blueprint for tackling them.
Lt Gen Mehta also wanted better utilisation of existing resources in the defence sector such as the trained, disciplined and still physically fit 70,000 service personnel retiring every year.
Top Stories