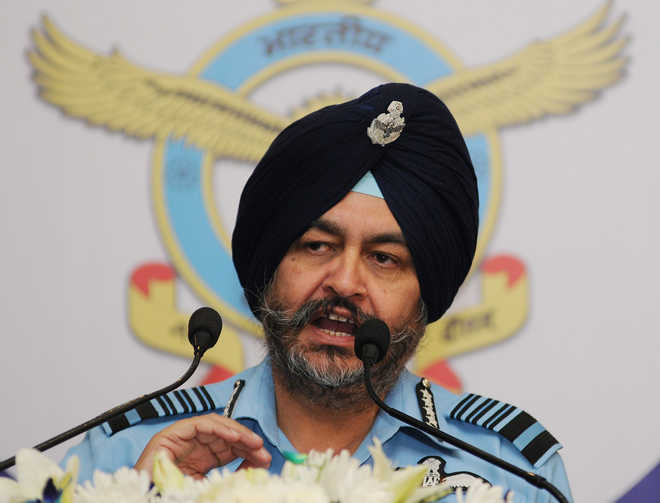 Ajay Banerjee
Tribune News Service
New Delhi, September 12
Indian Air Force chief Air Chief Marshal BS Dhanoa on Wednesday said the IAF needed to upgrade its fighter jet fleet urgently.
"We have to match neighbours Pakistan and China to tackle a two-front war," he said.
In a conventional battle, the air battle had to be won, the IAF chief said while speaking at a seminar 'IAF Force Structure 2035' organised by the Centre for Air Power Studies (CAPS) here. CAPS is an IAF-backed think-tank.
The government by providing the Rafale and the S400 air defence missile is strengthening the IAF to counter the shortfall of depleting numbers, the IAF chief said.
He reminded how emergency purchases during the 1980s were all two squadrons (the Rafale is also two squadrons).
The IAF chief said the purchase of F-16 by Pakistan in the early 1980s led to India getting two squadrons of the MiG23 MF from the then USSR, followed by Mirage from France and the MiG 29 from the then USSR.
China, he said, had some 1,700 fighter jets while Pakistan has some 20 squadrons (16-18 planes in each). IAF as of now has 31 squadrons. "Even if we get the 42 squadrons as mandated we will still be behind the collective strength of Pak-China," Air Chief Marshal Dhanoa said.
Earlier, Director General of CAPS Air Marshal KK Nohwar (retd) pointed to recent developments in China, especially the new runaways on man-made reefs in the contentious South China Sea.
China has set off a hybrid war in the South China Sea, he said.
China's ground communication stations are also coming up in Tibet, including the one at Gunsa, he said.