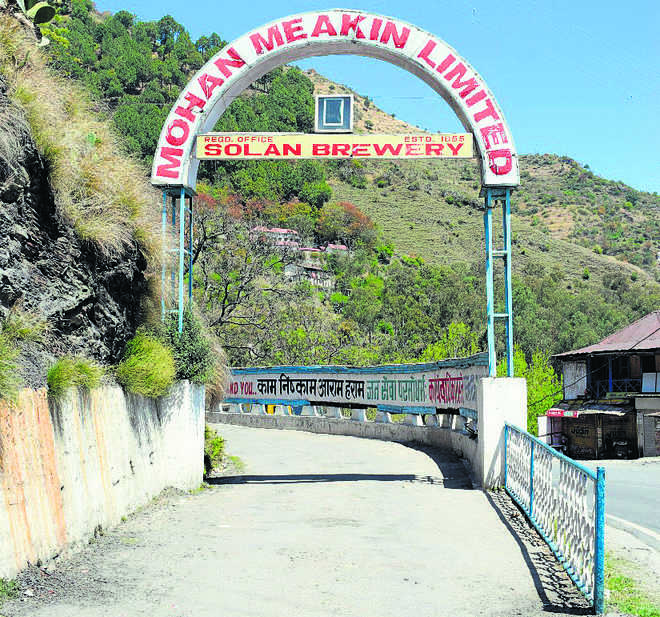 Ambika Sharma
Tribune News Service
Solan, April 6
Dyer Meakin Breweries Ltd would never have been rechristened as Mohan Meakin Breweries Ltd had the country's first Prime Minister, Jawaharlal Nehru, not refused to visit it while on way to Shimla in 1960.
Though the company's then owner, Narendra Nath Mohan, was keen on the PM visiting the Solan-based brewery, the latter said no as it was named after Edward Dyer, whose son General Reginald Edward Dyer was associated with the gruesome Jallianwala Bagh massacre.
"The refusal of PM Nehru served as the compelling reason to remove Dyer's name," recalls Lt Gen Pradeep Khanna (retd), whose father, Krishan Gopal Khanna, was the Financial Director with the company from 1959 to 1975.
The company's name was changed to Mohan Meakin Breweries Ltd on November 1, 1966, and from April 24, 1980, it was known as Mohan Meakin Ltd.
Edward Dyer opened a brewery at Kasauli in 1855 and a distillery at Solan. It marked the advent of industrialisation in the region and was the first brewery to be set up in Asia. Another entrepreneur, HG Meakin, coming from a well-known brewing family of Burton-on-Trent, founded Meakin & Co. Ltd. They joined hands to form Dyer Meakin & Co Ltd.
With the country attaining Independence, the British owners were looking for a buyer and their first choice was their employee Subodh Chandra Ghosh, recalls his grandson Vijay Ghosh. He declined the offer.
Employing about 200 people, the Solan brewery served as a key job avenue and old-timers still recall the football tournaments in which reputed teams from across the nation participated.
It was finally bought by Narendra Nath Mohan in 1949 as he was already doing business with the company. The company's Old Monk rum went on to become a coveted global brand. Known for its smokey taste since it was manufactured from the spring water of Solan, which was ideally suited for brewing, the liquor manufactured here has gained acclaim for its taste.
It was savoured by soldiers in the British army and continues to be popular with the Indian armed forces.
Narendra Nath Mohan expanded the venture and set up an industrial hub near Ghaziabad in Uttar Pradesh known as Mohan Nagar by establishing various manufacturing units.
Tomorrow
Death of a talented artist
Top News
CM, Dy CM lose their seats | Congress tally reduced to one
Says parties must learn from defeat | Winter session begins,...