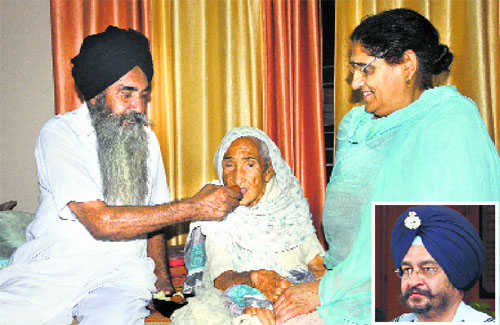 Vijay Mohan
and Akash Ghai
Tribune News Service
Chandigarh, June 1
Residents of Gharuan village in SAS Nagar still remember the legacy of Capt Sant Singh who had fought in the World War-II against the Japanese, but many are unaware that his grandson, who once as a child scampered through the village streets decades ago, has made it to the top echelon of the Indian Air Force.
As Air Marshal Birender Singh Dhanoa took over as Vice-Chief of Air Staff in New Delhi today, his relatives living in the village were delighted to receive the news. Gharuan is a village of about 10,000 inhabitants near Mohali in Punjab.
Under the current line of succession, Air Marshal Dhanoa, a fighter pilot of June 1978 seniority, is tipped to take over as the Chief of Air Staff when the incumbent, Air Chief Marshal Arup Raha, retires on completion of his term.
Air Marshal Dhanoa's grandfather, Capt Sant Singh was a veteran of the British Indian Army. "We still recall that he used to tell us stories of what all he saw during his campaigns," Air Marshal Dhanoa's uncle Parminder Singh said. "One anecdote that we remember vividly is of him telling that that soon we would have radios that would also receive visuals, which bemused the villagers," he added.
He had last visited the village in September 2014 to attend a bhog ceremony. "Though his family had a house and some land in the village, which they later sold off, Birender used to visit us during vacations," Naseeb Kaur, his 91-year-old grand aunt, said. "He used to be docile and was different from other children as he studied away from the village. Even when he met him last year after many years, he was amiable and gracious," she recalled.
Air Marshal Dhanoa is an alumnus of the Rashtriya Indian Military College and the National Defence Academy. He undertook several night-time strike missions while commanding a squadron during the 1999 Kargil conflict. He has also served as Chief Instructor (Air) at the Defence Services Staff College, Wellington, and Assistant Chief of the Air Staff (Intelligence). Prior to moving as Vice-Chief, he was Air Officer Commanding-in-Chief, South Western Command.
His father, Sarayan Singh was the Chief Secretary to the Punjab Government during the 1980s and later served as advisor to the state governor, while his sister is residing in Chandigarh. Manjeet Singh, a localite, said though he knew about the Dhanoa family, he was unaware of its military heritage.
"We are proud that members of a family from our village have achieved great heights. We would definitely like to spread awareness amongst the villages about them," Gurdeep Rana, husband of the village sarpanch said. "It would be a motivating factor for the younger generation," he added.
Top News
In a career spanning nearly 40 years, Lt Gen Chauhan had hel...
Issued days after MEA warns of hate crimes, sectarian violen...
The bus had returned from Basantgarh and was parked near a p...
He will replace KK Venugopal whose extended term is ending o...
The scheme to cost additional Rs 44,762 crore