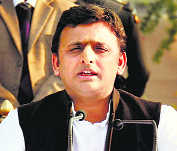 Lucknow, September 19
Uttar Pradesh Chief Minister Yogi Adityanath Thursday said "strengthening" law and order in the state has helped changing its image, a claim that opposition parties sought to quickly puncture.
Addressing a press conference to mark the halfway point in his five-year term, Adityanath claimed Uttar Pradesh has set a record in implementation of central schemes. "In the past two and a half years, Uttar Pradesh has been pulled out from a state of identity crisis as we converted challenges to opportunities," he said.
"The biggest achievement of my team has been changing the perception of Uttar Pradesh and restoring its identity," the BJP leader said.
"Strengthening law and order in the state has played an important role in changing its perception. There has not been a single incident of 'danga' (riot) in the state in the past two-and-half years," he said, apparently referring to large-scale clashes.
Adityanath claimed that dreaded criminals have either fled the state or are behind bars. "There has been a sharp decline in dacoity, rape, extortion-kidnapping, loot and clashes," he said.
"Dacoity cases declined by 54 per cent, incidents of rape fell by 36 per cent, murder by 15 per cent, loot by 45 per cent, extortion-kidnapping by 30 per cent and 'balwa' (clashes) by 38 per cent," he said.
Referring to the safety of women, particularly minors, the chief minister said the Protection of Children from Sexual Offences (POCSO) Act has been enforced strictly, and the pace of prosecution stepped up.
Opposition parties rejected Adityanath's claims. BSP supremo Mayawati described Adityanath's tenure as "disappointing", saying he "failed" to control crime. UP Congress chief Raj Babbar claimed atrocities are being committed on women. The party's state unit spokesperson Anshu Awasthi alleged that the Adityanath government is trying to save "rapist MLAs".
Their remarks came amid the row over a student alleging rape by former Union minister Swami Chinmayanand in Shahjahanpur, and the earlier charges of kidnapping and rape against expelled BJP MLA Kuldeep Singh Sengar in Unnao. — PTI