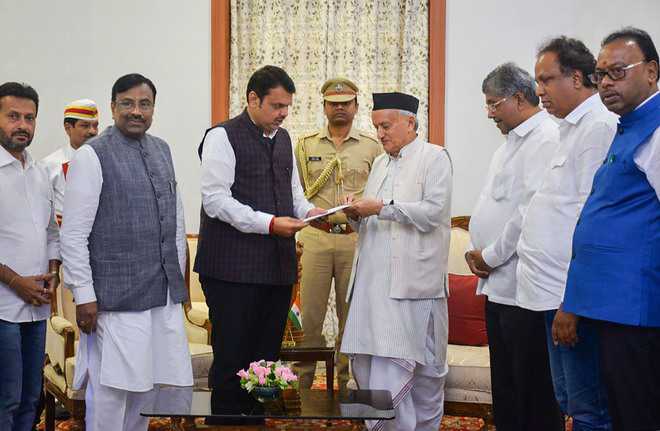 Shiv Kumar
Tribune News Service
Mumbai, November 8
Devendra Fadnavis today resigned as Chief Minister of Maharashtra hours before the term of the state Assembly was to expire (on Saturday).
Fadnavis, accompanied by his Cabinet colleagues and senior BJP leaders, went to Raj Bhavan where he submitted his resignation to Governor Bhagat Singh Koshiyari. After accepting his resignation, the Governor asked Fadnavis to continue as acting CM till alternative arrangements were made.
Maharashtra will come under President's Rule if the non-BJP parties are unable to form a government in the next few hours, according to political observers.
Later speaking to the media, Fadnavis hit out at the Shiv Sena for its attacks against his government and the BJP. The outgoing CM wondered whether it was worth continuing the alliance with the Sena, which did not even spare PM Narendra Modi.
Fadnavis reiterated that the BJP had not offered to rotate the post of Chief Minister with the Shiv Sena after two and a half years. "There was no discussion with the Shiv Sena to allow it to rule Maharashtra for two and a half years, at least not in my presence," Fadnavis said.
Addressing a press conference shortly after the CM, Shiv Sena chief Uddhav Thackeray accused Fadnavis of calling him a liar. "Devendra Fadnavis has called the son of Balasaheb Thackeray a liar. How can I face my Shiv Sainiks if somebody has called me a liar?" he asked. A visibly agitated Uddhav said he stopped talking to the BJP after Fadnavis denied agreeing to share power equally with the Shiv Sena.
"Devendra Fadnavis has accused me of lying. But the truth is that Amit Shah and Devendra Fadnavis came to me. I did not go to them. They offered equal sharing of power between the two parties. Fadnavis, however, said he would have problems making a public announcement about it," Uddhav said.
The Shiv Sena leader added that the BJP should first publicly accept the power-sharing formula with his party before holding negotiations. Earlier, there was talk of Union Minister Nitin Gadkari holding talks with the Shiv Sena chief. Following Raut's remarks, Gadkari denied that he was meeting any political leaders today.