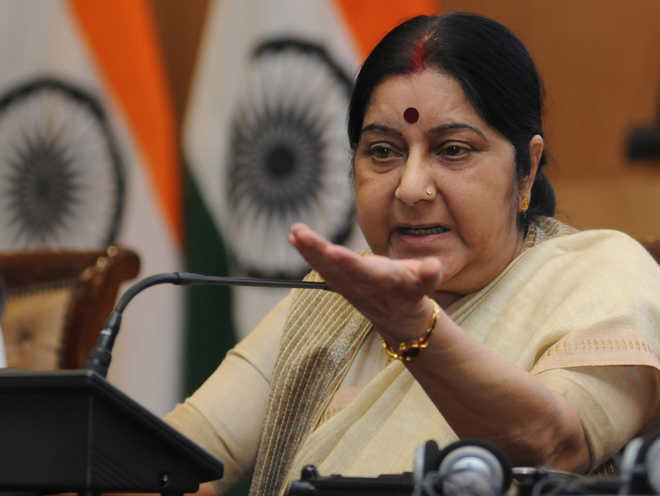 Naveen S Garewal
Tribune News Service
Hyderabad, November 28
External Affairs Minister Sushma Swaraj today said that Prime Minister Narendra Modi will not travel to Pakistan for the South Asian Association for Regional Cooperation (SAARC) summit.
"When we receive an invite, we are not responding to it since Pakistan has not stopped terror activities on Indian soil. There will be no dialogue till Pakistan stops terrorist activity here and we will not participate in SAARC," Swaraj said.
She snubbed Islamabad when asked why she did not go to Pakistan for the Kartarpur corridor stone-laying, saying there would be no dialogue till it stopped promoting terror against India.
She, however, added that the corridor should not be linked to talks. "I personally favour talks for resolution of any problem, but stopping of terrorist activity is a prerequisite. I went to Pakistan to extend a hand of friendship, but it responded with the Uri (attack on security forces) and Pathankot attacks. Terror and talks cannot go together," she asserted.
The Foreign Minister said the Kartarpur corridor was a long-pending demand of the Sikhs that was taken up with Pakistan many times. But it was only now that Pakistan had responded positively.
Swaraj took a dig at the Congress Government in Punjab, saying while Chief Minister Capt Amarinder Singh refused the invite by Pakistan (citing attack on Indian soldiers by Pakistan agencies), his junior minister Navjot Sidhu accepted the invitation. "There is an inherent contradiction in the Congress stand on the issue."
Pakistan Foreign Office Spokesman Mohammad Faisal had yesterday said PM Modi would be invited for the SAARC summit. India had pulled out of the 19th SAARC summit in Islamabad after the terrorist attack on the Uri Army camp in 2016.
Top News
Wearing of masks must in all educational institutions, gover...
Media report says initial assessment indicates 24-year-old m...
According to Rushdie's agent Andrew Wylie, nerves in his arm...
The exercise is scheduled to be held at Manesar in Haryana i...
State government issues notification, move expected to save ...