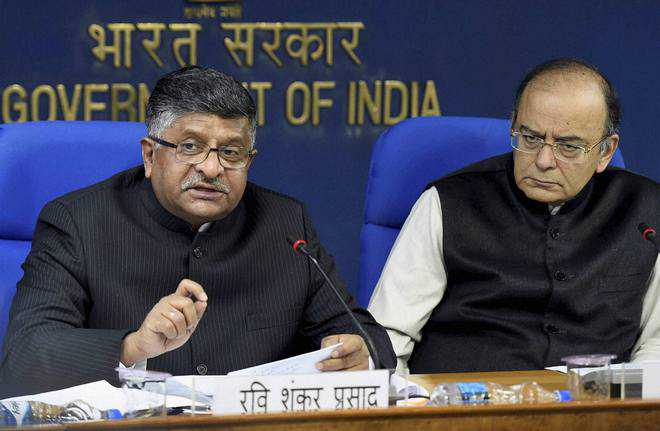 Mukesh Ranjan
Tribune News Service
New Delhi, January 18
Several of the British-era colonial laws, including levying of tolls for crossing river Ganges and marriage validation for couples tying the knot through traditional norms, continue to exist in the statue book of Independent India.
But the government has decided to bring in the Repealing and Amending Bill during the upcoming Budget session to scrap such 105 redundant laws.
A decision to this effect was taken today at a meeting of the Union Cabinet, chaired by PM Narendra Modi. The 105 laws slated to be repealed also include 2008 amendments to the Unlawful Activities (Prevention) Act, The President's Emoluments and Pension Act and the Vice-President's Pension Act, as these changes in the laws have already been incorporated in the parent Act governing the subject matter, sources said.
After the meeting of the Cabinet, Law Minister Ravi Shankar Prasad said the two-member committee constituted by the PMO, the Law Commission and the Legislative Department had identified 1,824 redundant and obsolete Central Acts for repeal.
Four Acts have so far been enacted to repeal 1,175 Central Acts between May 2014 and August 2016 by Parliament. The Minister said out of the 1,824 Acts, 227 (including Appropriation Acts enacted by Parliament for the states under President's Rule) have been identified for repeal by the respective state governments.
The Ganges Toll Act, 1867 continues to exist in the statue book of the country, which mandates that people crossing the river by any means have to pay the charges to the local bodies, with sources saying that it had become obsolete long back.
The Married Women Properties Extension Act, 1874 had given the women the right to "Streedhan" on jewellery given to them by their fathers, husbands and other relatives. This law was applicable only to areas which were under the British rule at that time, but in 1959 it was further amended to make it applicable across the country barring Jammu and Kashmir by adding the right over life insurance policies also. "With the comprehensive law passed by the Parliament now in force which gives equal right to women in self acquired and joint family properties, the 1959 law had become obsolete," a source said.
Top Stories