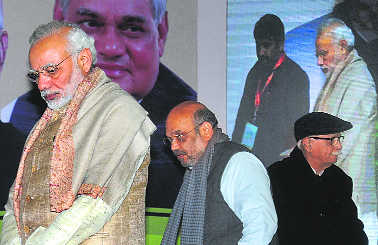 Tribune News Service
New Delhi, January 6
BJP president Amit Shah today termed demonetisation and the Army's military strikes against terrorist launch pads in Pakistan as two "historic" decisions under the stewardship of Prime Minister Narendra Modi.
Both decisions would find a positive mention in history, he said at the national executive meeting of the party where he also exuded confidence in his party scoring a perfect five on five in the forthcoming Assembly polls in Uttar Pradesh, Punjab, Uttarakhand, Goa and Manipur.
Amid reports of growing restiveness in the party over the possibility of the move adversely affecting the party's fortunes in the upcoming polls, Shah said the note ban would result in generating bigger revenues for pro-poor welfare measures in the country. Clearly, Shah speaking of demonetisation and surgical strikes in the same breath indicates that the two moves would constitute the fulcrum of his party's election campaign in the coming days.
Union Minister Prakash Javadekar said: "For the first time India carried out such a surgical strike. The whole world appreciated India's strength. It was an example of great bravery. This surgical strike is India's answer to terrorism. The BJP always spoke about its policy of zero tolerance against terrorism and has now acted accordingly."
On note ban, he said: "Demonetisation was also a brave and historic decision. People voted for us not merely to run the country but to turn it around and change the poor's fate. They wanted us to start welfare schemes for the poor and do more for them. That is why people have appreciated it and the poor backing it."
Addressing office-bearers before the meeting, he is also believed to have warned of more "out-of-the-box" measures against the rogue neighbour if it continued to engage in a "proxy war" with India.
Being held in the backdrop of the widespread Opposition criticism of the demonetisation move, the two-day national executive meeting will shape the BJP's poll strategy in the five states.
Top News
The former military ruler had left Pakistan in March 2016 fo...
After his failed misadventure in Kargil, Musharraf deposed t...
Military shoots down the surveillance balloon in Atlantic Oc...
The incident took place on Friday when Kambli reached his fl...
Dearness allowance for employees and pensioners are worked o...